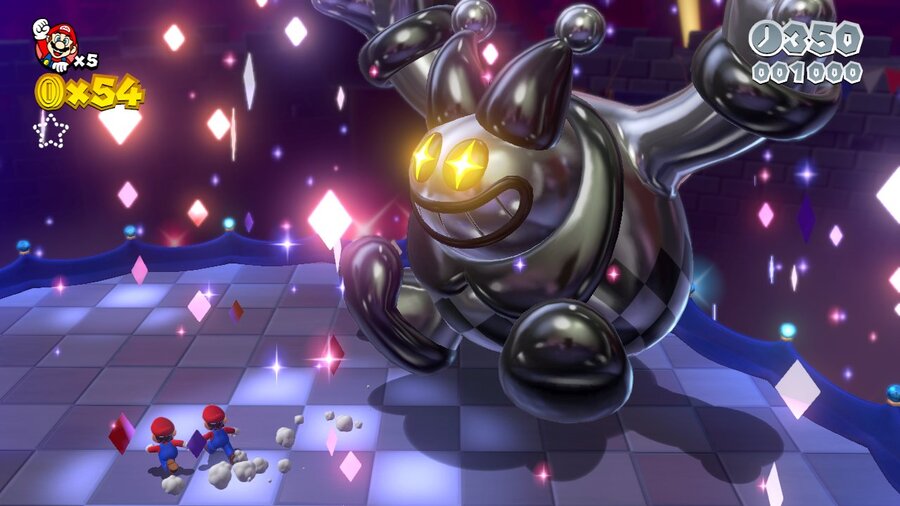 We're huge fans of Super Mario 3D World here at Nintendo Life, giving it a 10 in our review and generally sharing the view that it's a worthy entry into the 3D Mario canon, unique and up there with the best. Those were opinions shared by various outlets, too.
Sadly, the positive press and marketing hasn't led to an impressive launch for Mario's latest adventure. The new title has struggled in the face of a record-breaking PS4 launch, with the Sony hardware becoming the fastest selling console in the UK and seeing its software lineup perform equally well. Plenty of multi-platform games and the occasional exclusive performed well for the PS4, while a couple of others came into the top 10 on the back of Black Friday deals, including Just Dance 2014's jump to ninth place being credited to the discounted Wii version.
Back to Mario, however, and 3D World made its début in a disappointing 14th place, which is even below the relatively poorly received PS4 launch title Knack in 13th place; no other Wii U exclusives made it into the top 40.
There are still a good number of 3DS titles occupying chart places. First up is The Legend of Zelda: A Link Between Worlds in 17th in its second week, showing greater staying power than a couple of the Xbox One's big-hitting exclusives — it's above Dead Rising 3 and Ryse: Son of Rome. Pokémon X & Y are inseparable again in 27th and 28th (X wins this week) and are joined by Mario Kart 7 and Animal Crossing: New Leaf in 29th and 31st respectively. Professor Layton and the Azran Legacy is still puzzling it out in 35th, as DS / 3DS release Moshi Monsters: Katsuma Unleashed clings on in 39th.
Some solid 3DS results, but it seems that the arrival of PS4 and the struggles of the Wii U combined in an unfortunate way for Mario's latest. We'll see in the coming weeks whether the plumber shows notable staying power to improve his fortunes in the run up to the Holidays.
[source ukie.info]