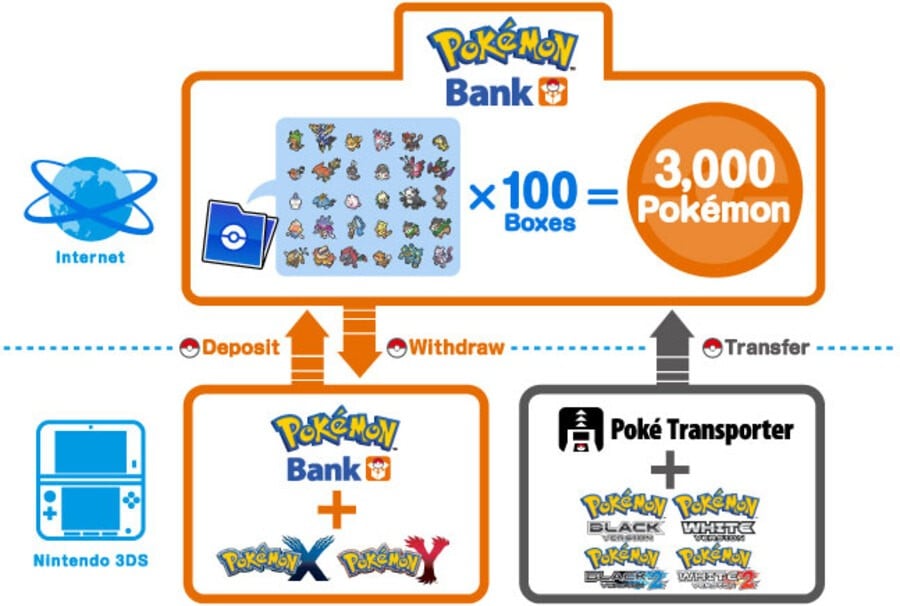 Since Christmas Day there have been serious problems with the Nintendo Network, with the big N assuring gamers that its working hard to resolve the issue. At the time of writing various online games are functional, but there are still problems with both eShop platforms and the 3DS version of Miiverse across territories. Some seem to be lucky enough to have been able to access either eShop at some point, though for most it seems the issues are ongoing and unrelenting.
It's now emerged that Pokémon Bank — released on 25th December in Japan — has been taken offline and removed from the 3DS eShop, as per an official statement on Nintendo's Japanese website; it has been attributed as part of the cause of the network issues. Those that have downloaded the app in Japan will have their free 30-day trial start from scratch once it's available again, though no estimated date has been given for its return.
In other communications Nintendo of Europe and Nintendo of America have also cited high user traffic — most likely from new systems being fired up and new users attempting to set up Nintendo Network IDs — which, aligned with the Pokémon Bank launch in Japan, seems to have caused the server meltdowns that are still an issue at the time of writing.
Pokémon Bank and the accompanying Poké Transporter apps are due on the 27th December in Western territories, but that must now be in doubt; the official North American game page still states 27th December, yet Serebii is reporting that the release date is now showing as TBC in both the North American and European eShop stores — due to the network issues we are unable to verify the latter.
Today's Nintendo Download update for North America is also yet to be issued, most likely due to the company holding back on releasing details until the stores are back online — we would expect that contingencies will be put in place to extend any limited-time discounts that are currently inaccessible. We are checking regularly for the download information and will post as usual once the official list is provided.
What seemed like an initial Christmas Day server overload has now become a two day affair, and certainly more damaging for Nintendo. Hopefully normal service will resume soon.
[source polygon.com]