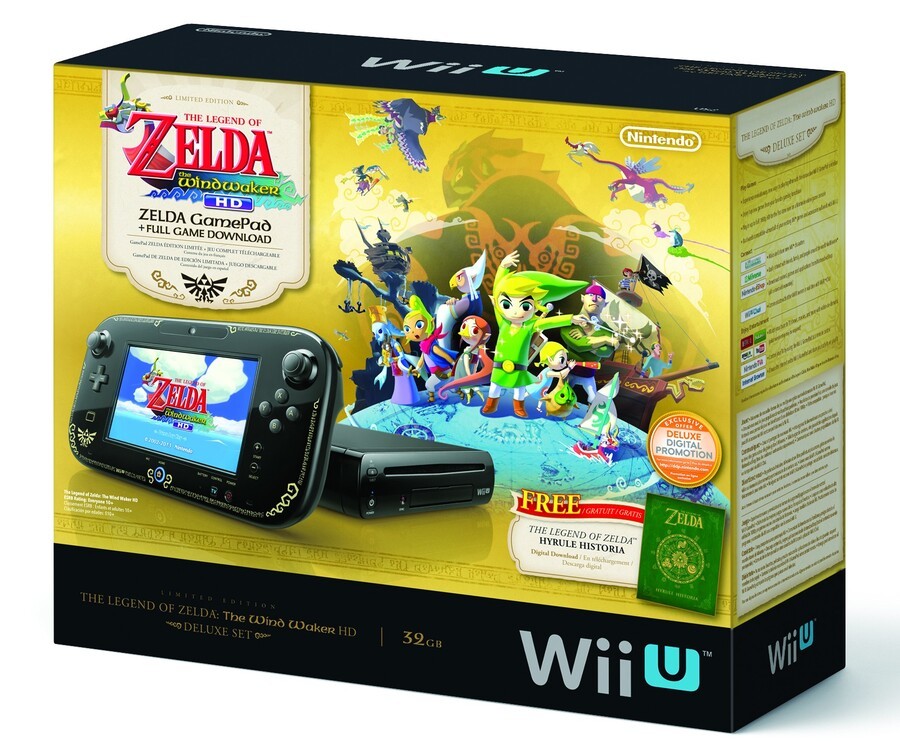 The Legend of Zelda: The Wind Waker is here, if you're happy to download and live in North America. While many of us count the days until 4th October, this HD remaster / remake / whatever you want to call it has docked in the North American eShop ahead of time. It coincides with an official Wii U price cut in the region — of $50 — and joins the rather attractive Wind Waker HD hardware bundle, picture above.
It's a pity that a similar promotion wasn't rolled out in other regions, such as that in which this writer is sitting, but it's a neat bonus in what is a vital marketplace for Nintendo in the coming weeks and months. Whispers online — or to put it more accurately tweets — have spoken about retailers selling out of the limited edition new bundle, for example, no doubt aided by the new price, the thoughtful inclusion of the digitial version of Hyrule Historia and that rather attractive design. The Wind Waker HD plays its part, of course, and those that are happy with their current system — or put off by the absence of an actual Wii U to Wii U transfer process — can target the eShop and get hold of the game today. It won't even need much hard drive space, either, with the North American version reportedly around 2.5GB; bizarrely, it's just under 1.8GB in Europe.
So what of the actual game? The critical reaction has been overwhelmingly positive, with 9s and 10s — accompanied by lots of words, of course — being liberally dished out around the web. We rather loved it ourselves, as you can see in our The Legend of Zelda: The Wind Waker HD review, and if quality alone is enough to give the Wii U a sales boost, this title will hopefully do the job. While veterans may be tempted, we shouldn't underestimate the potential of this as a 'new' Zelda title, as it will surely be to plenty of gamers and potential consumers out there. Combined with a price cut this could bring immediate benefits now, and perhaps more so once the physical release arrives on 4th October.
So, how many of you in North America are planning to take the plunge on the download version today, or do you plan to wait for the disc release? Are you going all the way and picking up the limited edition hardware bundle? For some of us that's not a choice — we're currently playing the world's smallest violin here in Nintendo Life HQ — but let us know your Wind Waker HD plans in the comments below.