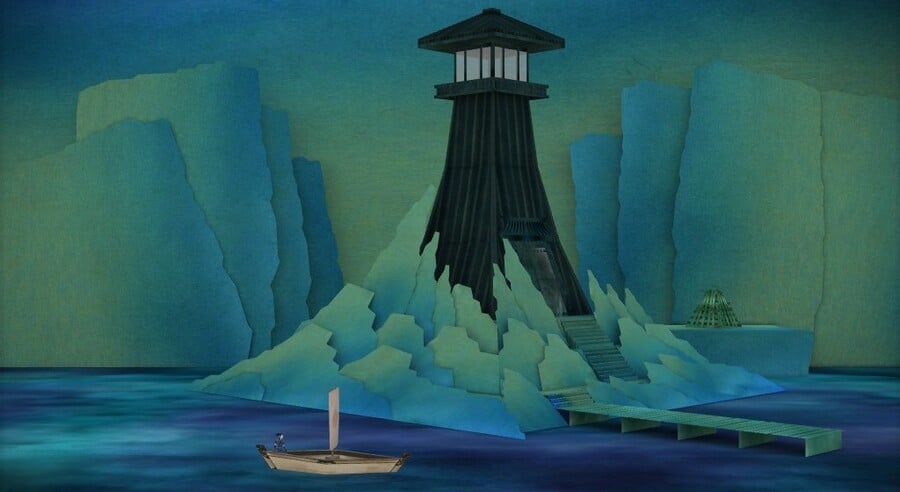 Not so long ago, we broke the news that Tengami was headed for the Wii U eShop. Since then creator Nyamyam — made up of former Rare staffers Phil Tossell and Jennifer Schneidereit — have been hard at work finishing the iOS version as well as porting the title over to Nintendo's hardware. The duo are demonstrating the Wii U version at PAX Prime this week, but were kind enough to exclusively show us the game before jetting off to the US.
"In total we've probably been working for about three weeks total," explains Tossell when asked about the development of the Wii U port. "The first two weeks was kind of like feasibility, to see how much time it was going to take to do. Within two weeks we had the vast majority of it working, which was quite a significant task as we had to not only port all of the game stuff but all of our tools as well, which are Mac-based. Thankfully it was always our intention to be multi-platform, so from previous experience I knew what kind of things to look out for. It was quicker than we expected."
Tossell and Schneidereit have found Nintendo's console a pleasure to work with, and are impressed with the effort the company is making to accommodate indie developers. "The Wii U is nice to develop for," Tossell says. "The software APIs are really nice and the graphics system is, too. To be honest, the SDK for the GameCube was good — the Wii U feels like a further evolution of that." However, Tossell admits that he did have his reservations about the Wii U before work began on porting the game, largely down to the transition from a capacitive touchscreen on the iPad to a resistive screen on the Wii U GamePad. "I kept saying to Jennifer that it wasn't going to work," he says. "But actually it's not too bad. We swapped the double-tap for movement on the iOS for a single-tap on the Wii U, because on a capacitive touchscreen it's very easy to do a single tap accidentally. That's not the case on a resistive screen, so it felt like a double-tap wasn't necessary. It seems to work really well with the stylus."
Of course, the Wii U isn't the only piece of Nintendo hardware that boasts a touchscreen. Given the game's paper-folding "pop up" effect, you might imagine that it would be an ideal fit for the 3DS, but Tossell fears that the popular portable may not be equal to the task. "The problem we have is that there's a lot of high resolution edge detail in Tengami, and we'd lose that," he explains. "We were actually slightly concerned about the Wii U GamePad screen, as that's not HD resolution. My concern with the 3DS is that it won't have enough resolution, and whether or not we'd be able to port it without looking messy."
Many developers might see the Wii U's small install base as a reason to avoid supporting it, but Tossell feels that there's the potential to score significant successes on the console. "You can have a lot of success on a single platform — Rare is proof of that — and I think those conditions are there with the Wii U. There aren't a lot of developers working on the system right now." Assuming Tengami is a success — and from what we've seen, there's no reason why it shouldn't be — what is the next step for Nyamyam? "We have a couple of game ideas that are different from Tengami" says Schneidereit. "One of the deciding factors will be how players react to Tengami. The question is still what will come back from the people who play it? Will they want to see more pop-up games, or will one be enough? I don't know if there will be a Tengami 2 — at least not straight away — but there's a lot of room for exploration with the pop-up style."
The lead platform for Tengami remains the iPad, and it will be Apple fans who get to play the game first. "The iOS version will definitely be out Q4 this year," reveals Tossell. "Wii U will be Q1 2014 — it could be a few weeks after the iOS edition or a couple of months, but certainly no more than three months." Although they can't confirm it for sure, Tossell and Schneidereit admit that the additional wait could yield some pleasant surprises. "We have the Wii U version running in parity with the iOS version in terms of features, but we may be able to add stuff that makes it even better — such as alternative control schemes and better ways of interacting. We've considered using the Wii Remote for control, but we'll have to see."