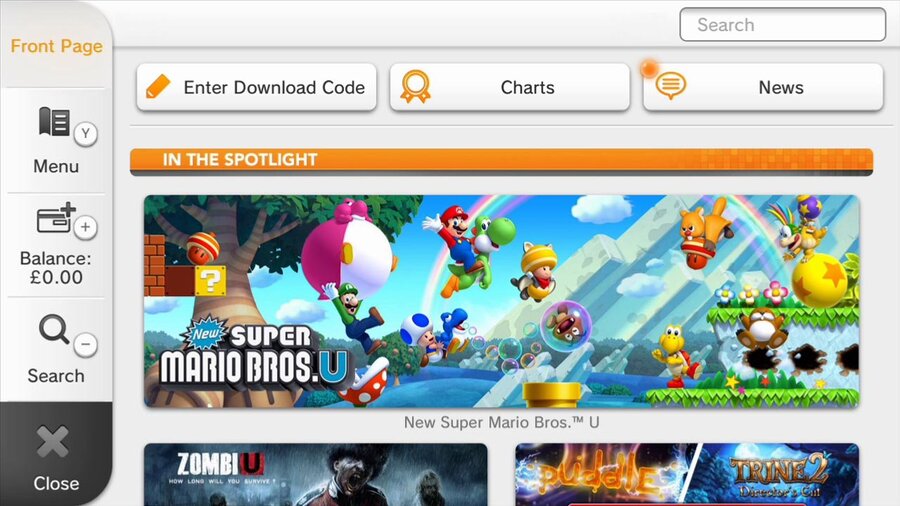 Nintendo has to be applauded for fully embracing the digital age with the launch of the Wii U eShop. Most retail games are available for download from day one (well at least the ones I would consider buying anyway!) and for some, it's a pretty convenient way to get the latest game. The 3DS has been playing catch-up as it launched with a modest eShop without the ability to download retail games. But it's got up to speed now and most new first party games can be downloaded if you furnish your 3DS with a generously sized SD card.
With recent campaigns such as the So Many Games! promotion, Nintendo has been actively encouraging consumers to get used to the idea of downloading retail games to their 3DS. Also as the Wii U is able to support external HDDs with 2TB of storage, it's practically begging to be filled up with meaty retail downloads.
In my case, downloads are an ideal option with my young family. In terms of the Wii U I have to block off my entertainment unit from my 18-month old son: he doesn't mix well with discs! When I play the Wii U with my daughter after school, it's so easy to simply select the game from the menu and start playing. With the 3DS, it's just that convenience of not carrying carts around when out and about, and with first-party games I know that, realistically, I wouldn't plan to trade or sell them in the future anyway.
But while downloading retail games from the eShop is convenient for some, is it good value for money? I would say that Nintendo could do a lot better in this area. In the UK the prices are astronomically high, for instance New Super Mario Bros. U costs £49.99 to buy on the eShop; it's $59.99 in the U.S. This is the Recommended Retail Price (RRP) — or MSRP if you're in North America — which absolutely no one is conditioned to paying on the high street or online for games, not since time began. At present I could simply buy the disc based game from ShopTo for £36.85. On the high street I would expect to pay more like £39.99.
Now I completely understand that the big N doesn't want to upset retailers by undercutting them on their eShop, but they could at least be in the same ball park. At least on the Wii U, the Nintendo Network Premium scheme offers a small incentive. You'll get eight points per £1 spent, meaning you'll be eligible for £5 / $5 eShop credit after spending £62.50. In defence of Nintendo of Europe, too, its deal with GAME does mean that download codes can be bought in stores or from the retailer's website; the online option does sometimes have eShop codes a little cheaper than on the system itself. But still, rather than go to that website and set up a customer account and so on, it'd be great to get those improved prices right off the bat in the eShop.
Forgetting famously low-priced platforms such as Steam, it's interesting to note that Sony has adopted a keener pricing model for games on the PlayStation Store. A few weeks ago I downloaded The Last of Us on launch day for £39.99. Preorder prices from online retailers were only a few quid cheaper when I looked and the digital version had some additional DLC bundled with it for free. In short, I didn't feel hard done by. How did Sony achieve this without upsetting retailers?
Taking into account the usual arguments against digital downloads, such as not being able to trade the games in and Nintendo's lack of a modern account-based system for game ownership (in their model digital purchases are tied to your hardware, not an online account), it really needs to be trying a bit harder to be seen to offer value to consumers in my humble opinion.
Do you agree with Dazza's stance on the cost of downloading retail games from the eShop? (555 votes)
Yeah, let's be honest – it's a bit of a rip-off isn't it?
61%
True it's not competitively priced, but it's so convenient
17%
It's not bad value for money as it is – no changes needed
4%
Pah, downloads! I'm old school and will only buy boxed games. I like to smell them
16%
Please login to vote in this poll.