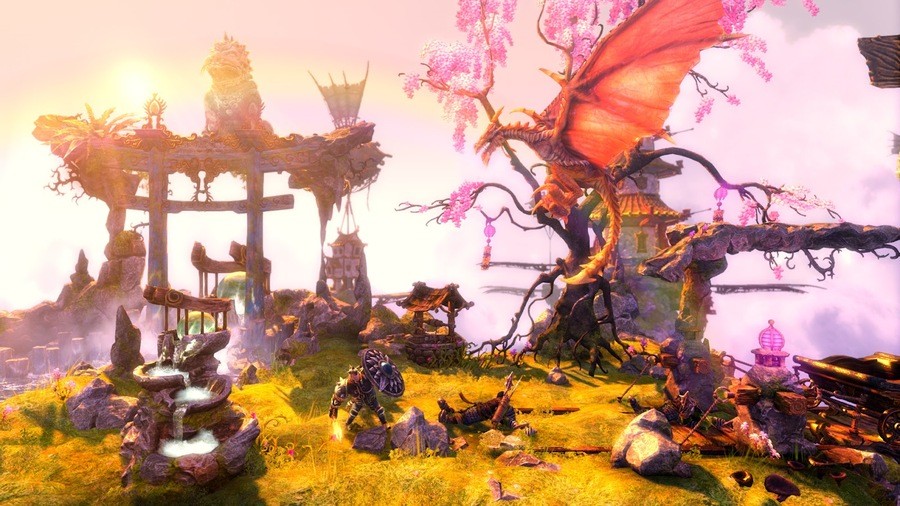 Frozenbyte's Trine 2: Director's Cut was an early standout title on Wii U, both in terms of the adventure itself and as a visual showcase for the system. The developer has been one of the most positive voices in support of the hardware in that respect, and has also praised Nintendo's support of smaller studios on the eShop.
Speaking to gamersxtreme.org, Frozenbyte's Marketing Manager Julius Fondem reiterated his believe that the "Wii U is a truly powerful console", praising its RAM in particular. Perhaps more importantly, he repeated the studio's praise for the eShop platform and its accessibility for developers, while acknowledging that the environment is improving on other systems, too.
With the eShop, Nintendo has made it easy to approach and open for indies which is awesome. Nintendo allows us to self publish our games, updating our game is free of charge, and the eShop is still so fresh that we have great visibility there.
With PSN and XBLA, it used to be that you had to have a publisher to publish your games (i.e. no self publishing) and updating the games cost a significant amount. Also, these platforms used to regulate things more than the eShop.

Now however, Sony has changed their game up quite a bit, making self publishing a reality for indies and making the platform a lot more approachable, which we really appreciate. As for XBLA, similar rumors have been circulating around recently but we don't know enough to comment on that.
Unsurprisingly, Frozenbyte is interested in returning to its Trine universe for a third entry, though its confirmed upcoming project — Splot — is a cartoony platformer coming to smartphones and computer platforms, with no current plans to move to home consoles. The good news is that the Wii U is very much in the running for future titles that are suitable.
Working with Nintendo is great. They are extremely supportive towards us (and I've heard similar words from other indies) and communicating with them is very easy. We appreciate this a lot.
We would definitely want to bring our future titles to the Wii U. With Splot though the situation is a bit more complex as the technology we're using isn't the same as for Trine 2: Director's Cut, so there's a lot of technical work in getting Splot running on "high end" consoles like the Wii U. We are pushing as hard as we can to get Splot out on iOS, Android and computer platforms first. Depending on Splot's success, we'll see about other platforms. So, we haven't decided on the Wii U for Splot yet, but it is something we're considering.
Based on the quality of the Wii U's version of Trine 2, that's good to hear for Wii U eShop fans.
Thanks to Ryan Millar for the tip.
[source gamersxtreme.org]