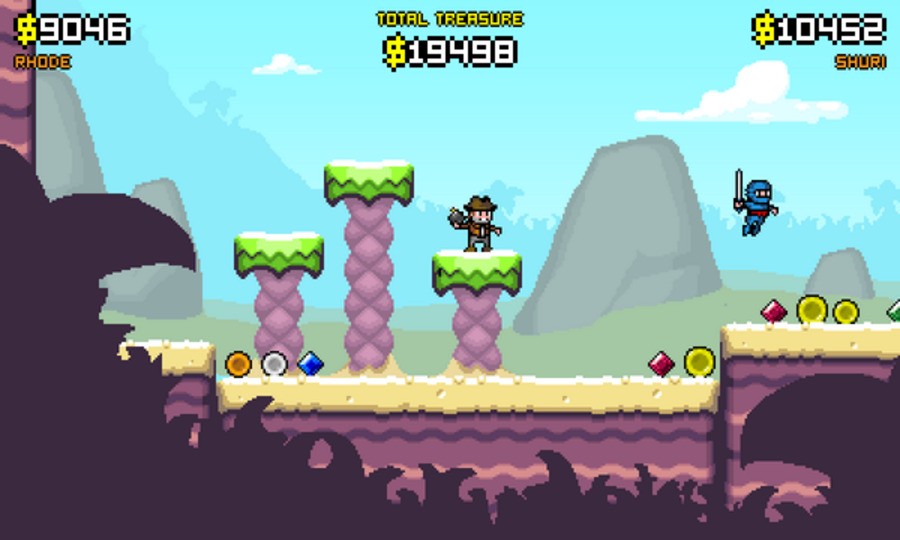 Back in March, we reported that developer Renegade Kid was working on a new title called Treasurenauts, as the trademark had been spotted on the USPTO website. Very little information was given about the game at the time, so all we could do was sit and twiddle our thumbs.
Two months later, the first details have finally been dug up in this month's issue of Nintendo Force. Here's a brief outline of the comments from Renegade Kid co-founder Jools Watsham:
Watsham explained that the Treasurenauts are a mixed band of characters, including heroes, adventurers and misfits. There will be at least eight characters, some of whom may need to be unlocked throughout the game.
Choosing a character is broken up into two categories: personalising your character's appearance and selecting a weapon - a sword, firearm, or bomb. Each weapon has a different strength and weakness compared to the others.
Treasurenauts aims to provide a different gameplay experience to Mutant Mudds, but it'll feature the same 2D art style as its popular sibling and will lean towards 16-bit - along with the music - rather than 8-bit or 12-bit.
The world map is a treasure map, which is inspired by the one found in Super Mario World. After completing a level, it'll appear on the treasure map and you can easily access it by navigating to that particular area.
Local Multiplayer and Download Play will be supported. You must work as a team in co-op, combining by simultaneously pressing buttons to get to a certain area, reaching high platforms by giving your partner a boost and tackling various bosses. Defeating these bosses will unlock new abilities for your character.
Your health and wealth are bound together during the game, so if you're hit by an enemy it won't just make a dent in your health bar, but you'll also lose some of your pocketed treasure. It can easily be recovered if you're hot on your toes, but some of it may disappear for good if you take too long.
Treasurenauts contains multiple endings, which is determined on how much treasure you've managed to dig up on your journey.
A release date for the upcoming 3DS eShop platformer wasn't mentioned, however according to Jools it's aiming for a Q4 launch.
What are your thoughts on this fresh information, is it enough to have you digging deep for those coins to purchase the game? Let us know in the comment section below.
[source nintendoeverything.com]