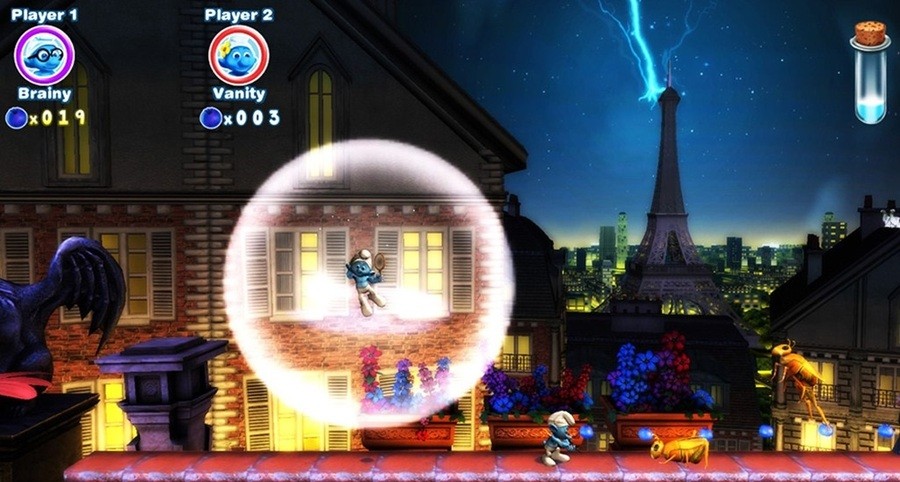 The Smurfs are making a comeback this Summer with the release of the aptly named The Smurfs 2 in cinemas across the world and Sony Pictures has decided to release a platforming game alongside it.
Now, before you throw your arms up in despair, it might not actually be that bad as it's being developed by Ubisoft and WayForward Technologies, both of which have a pretty good track record when it comes to platformers.
It appears as though the game will largely follow the storyline of the movie, allowing you to roam around the Smurf's homely village before you jet off to Paris and New York. However, there will be some segments of it that won't be from the movie, including the Arctic Tundra and the Lava Jungle, so if you leave the cinema desperate for more Smurf action you can get a little bit extra by picking this up.
The Smurfs 2 will feature a multiplayer mode, which allows four players to play along with each other cooperatively - although no doubt there'll be plenty of players wanting to hinder one another. If you pick up the Wii U version, you'll be able to play with five people at once, with the fifth player taking on the role of Clockwork Smurf using the GamePad. As you progress you'll unlock nine different Smurfs and each one of them has their own unique ability.
There will be 30 levels for you to plough through in six different worlds, so there could be some decent value in this.
The Smurfs 2 will be available on Wii U and Wii, as well as PlayStation 3 and Xbox 360. An interactive storytelling book and collection of mini-games will also be available for the DS.
WayForward Technologies is the studio behind Mighty Switch Force and worked with Capcom on the upcoming DuckTales: Remastered. This isn't the first movie tie-in it has developed - it made Hotel Transylvania on the 3DS, which was released last year.
Are you looking forward to this one? Do you think Ubisoft and WayForward can pull it off? Let us know your thoughts in the comments section below.