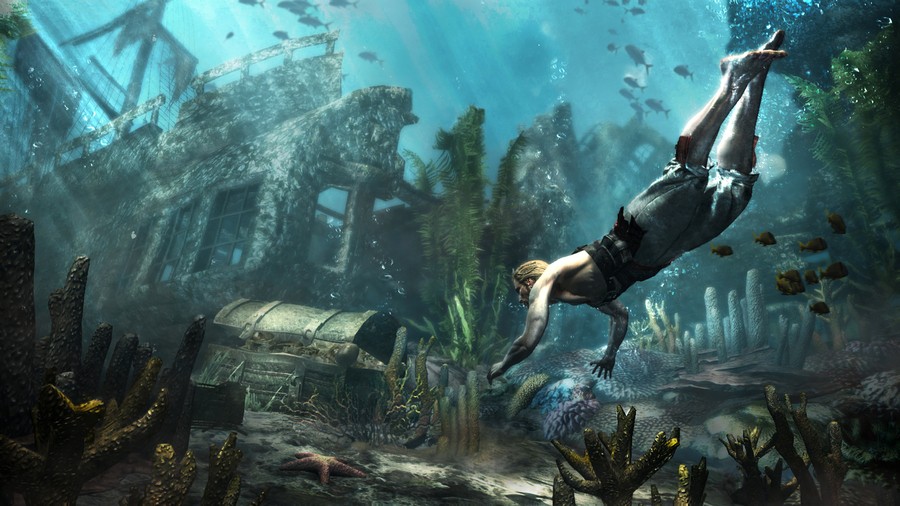 So, we can legitimately reveal some key Assassin's Creed IV Black Flag details now, even though the embargo has leaked more than a ship pillaged by Blackbeard — add your own additional pirate puns here, dear readers.
For starters, the details that really matter are that the game will arrive on Wii U on 29th October in North America and 1st November in Europe. The main protagonist is Edward Kenway, the father of Haytham Kenway from the previous game, who leaves the navy to grow his hair and be a fearsome pirate; naturally he gets caught up in a battle between assassins and templars.
As you'd expect, a great deal of focus is on action out at sea, as you start with a modest ship with the goal of looting your way to a more powerful vessel; there'll also be around 50 locations to visit in this part of the game. There'll be plenty of action on solid ground, as well, with three main hub-worlds being included — Havana, Kingston, and Nassau.
While the developers have stated that this entry builds on previously established tenets and assets, this does seem like a fair diversion for the franchise; certainly thematically and, it seems, in terms of the gameplay focus. While it may be tempting to tease the pirate-theme — as we already have here on Nintendo Life — it'll be interesting to see how the premise translates into the final game. We're also quietly hoping that the GamePad touchscreen will be utilised a little more than in Assassin's Creed III, where it was used to view the map and call your horse.
It's a blockbuster release coming to Wii U, so check out the official trailer below and let us know what you think. If you want to know more from our network man at last week's press event, check out the Assassin's Creed IV reveal article at sister-site Push Square.