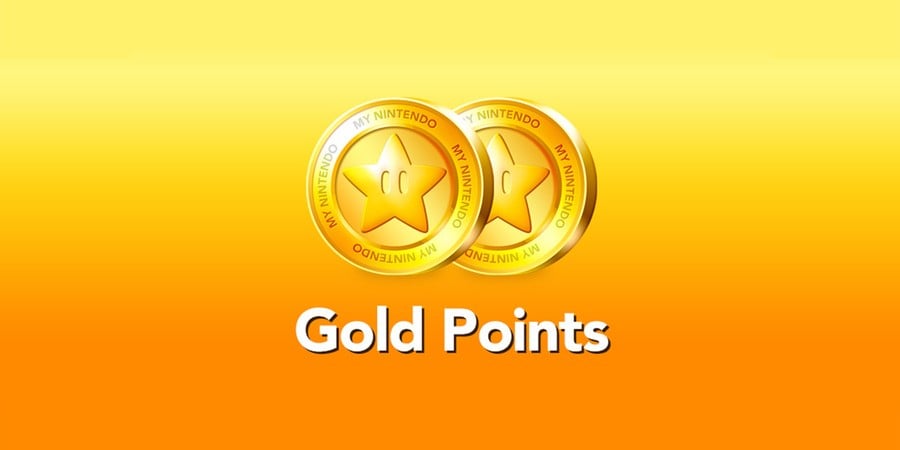 One of the best things about the Nintendo eShop is that you can use My Nintendo Gold Points to get a sweet discount on digital purchases, but something a lot of people aren't aware of is that while Gold Points are earned automatically on downloads, they have to be manually claimed on physical games.
While this process isn't automatic, it's thankfully quite easy to do. Just follow the steps below and you'll be earning Gold Points in no time at all.
How To Earn Gold Points On Physical Nintendo Switch Games
Insert Your Game Card
You'll need to have the game inserted into the Switch's game card slot to perform this process – if you try to claim the Gold Points without the game loaded up, you'll get a message asking you to insert the game card and try again.
Press '+' To Access The Software Menu
Press '+' (or 'Start', if you prefer) to open the software menu for the game in question. From this menu you can manually update the game and tinker with its save data, as well as other things. However, in this case, we're interested in the 'My Nintendo Rewards Programme' option, right at the bottom.
Select 'My Nintendo Rewards Programme'
Select this option and you'll notice that 'Earn Gold Points (game card version only)' becomes highlighted. Select this to proceed. If you have more than one user account registered on your Switch, you'll be asked which user account the points will be applied to.
Claim the Gold Points
You'll be shown how many Gold Points are up for grabs before you claim them. They vary from game to game; for example, Ring Fit Adventure gives you 70 points, while Ys Origin is only worth 18 points. This is because the amount is based on a percentage of the original retail price.
Spend Your Gold Points
Once you've claimed your Gold Points, you can spend them on the eShop. Remember, 100 points is the equivalent to £1 / $1. When you make a purchase, you'll be asked if you wish to use your Gold Points balance to reduce the cost.
Can I Claim Gold Points On Pre-Owned Games?
Sadly not. If the game you're using is pre-owned or belongs to someone else who has already claimed the Gold Points, then you will not be able to earn Gold Points on your account.
Can I Claim Gold Points On Multiple Copies Of The Same Game?
Yes, you can claim multiple physical copies of the same game on the same Nintendo Account. You can also buy digital and physical versions of the same game on the same Nintendo Account. However, digital titles only qualify for My Nintendo Gold Points once per Nintendo Account.
How Long Do I Have To Claim My Gold Points?
It is believed that Gold Point must be claimed within 24 months of the game's physical release. If you try to claim after that period, you'll get Error Code 2016-0403.
How Do I Claim Gold Points On Digital Games?
Gold Points are claimed automatically on digital purchases – you don't have to do anything. They're added to your account at the point of purchase.
My Nintendo Gold Points - Error Codes
Error Code: 2016-0401

As noted above, you cannot claim Gold Points on a game which has already been registered with another Nintendo Account.
Error Code: 2016-0415
If the game in question is unavailable in a particular region, you'll get the following error message:
If you have a North American, European or Japanese alternate account on your Switch, try using that account to claim the Gold Points. It doesn't always work, as we have discovered, but it's worth trying.
We also found that games which are available in more than one region can be registered on other regional accounts – for example, we had a download copy of Animal Crossing: New Horizons on our Switch and were able to claim the Gold Points using a physical copy of the Japanese version of the game.
Error Code: 2016-0403
Likewise, if the game's Gold Points period has elapsed (it's believed to be around 24 months from the point of release), you'll get this error message:
Error Code: 2016-0402
Finally, you might find cases where the game isn't yet eligible for Gold Points, even if it's been on sale for quite some time (the physical version of Freedom Planet gave us this error message on all of the regional accounts we tried):
Things To Remember
There are some things to remember when talking about Gold Points (information taken from Nintendo's official site):
For purchases on Nintendo eShop or the official Nintendo website (where available), you automatically earn Gold Points worth the equivalent of 5% of your total paid amount.
For redeeming a download code, you automatically earn Gold Points worth the equivalent of 5% of the undiscounted Nintendo eShop price of that content at the time of redemption. Only commercially distributed download codes qualify for points.
For the purchase of a Nintendo Switch game card, you earn Gold Points worth 1% of the undiscounted Nintendo eShop price of that game. In order to receive the points, you need to register the game card on the HOME Menu of your Nintendo Switch console within two years (for Europe and South Africa) or one year (for all other countries) from the official release date of the game in your country. You can confirm the release date of a game by visiting its details page on Nintendo eShop.
On Nintendo 3DS and Wii U, Gold Points are only earned if your Nintendo Network ID is linked to your Nintendo Account at the time of purchase.
Some content may be exempt from the earning or spending of Gold Points.
The amount of points you can earn for a purchase can be confirmed on the product information page on Nintendo eShop.
Gold Points are valid for 12 months from when they are earned, and always expire at the end of a month.