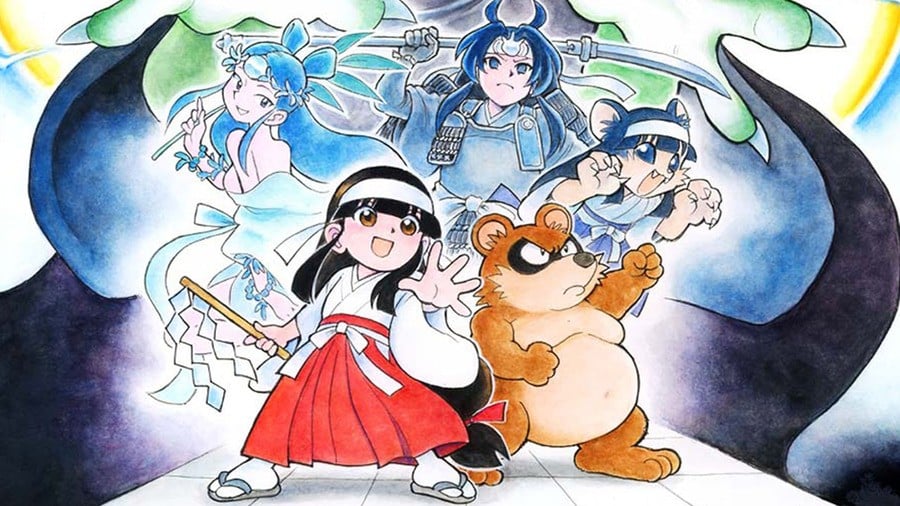 Pocky & Rocky Reshrined, which was delayed from last year, has finally gotten a solid release date for Japan.
Published by Natsume Atari and developed by Tengo Project, the game is the latest entry in the popular KiKi KaiKai series. The franchise has seen instalments on a wide range of systems, with perhaps the most famous being the two SNES entries. There was also a sequel on the Game Boy Advance.
This new game will boast five playable characters – Pocky (Sayo-chan in Japan), Rocky the Tanuki (Manuke), Ame no Uzume, Ikazuchi and Gozen Hotaru – and will feature a Story Mode which sees the return of the sinister Black Mantle.
An 'Extra Easy Mode' is included, which will allow less-experienced players the chance to enjoy the entire game. It is unlocked by collecting coins dropped by enemies during the game. There's also going to be a 'Free Mode' where you can pick your favourite character and attempt to clear every stage. Single Joy-Con support is included, so getting four people involved won't be an issue.
Pocky & Rocky Reshrined launches on Switch and PS4 on April 21st in Japan, with a global release expected this spring.
[source gematsu.com]