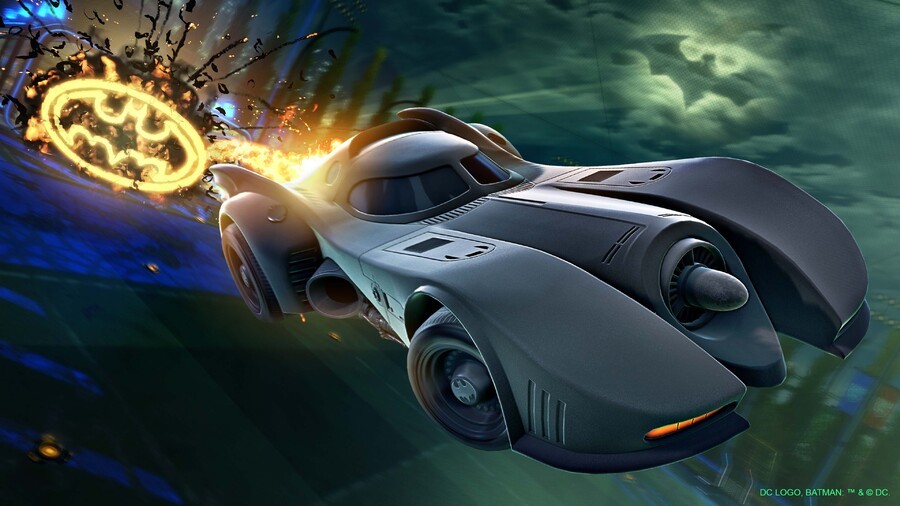 Psynoix has announced that Batman will be making a grand return to Rocket League just in time for Halloween, bringing new Event Challenges, cars, items and more along for the ride.
DC's legendary hero will headline the game's annual Haunted Hallows Event which kicks off again tomorrow, 14th October. It'll introduce Batman Super-Villain themed items, a Batman-themed Rumble Limited Time Mode, the return of three iconic Batmobiles, a new Arena variant, and those Event Challenges we mentioned. Here are the details you need:
· New Event Challenges - Players will complete Haunted Hallows Event Challenges to unlock Batman Super-Villain themed items such as the Joker Dominus Decal and Boost, Gotham's Finest Merc Decal, Harley Quinn Wheels and Topper, Poison Ivy Boost, and more.
· Gotham City Rumble LTM - Rumble mode is being transformed and power-ups are now themed after Batman and his enemies. Players can use Joker's Boxing Glove, Harley's Hammer instead of the Boot, Poison Ivy's vines instead of the Grappling Hook, and more.
· Batmobiles & Bat-Signals - The Batmobile (1989), The Dark Knight's Tumbler, and the Batmobile (2016) will be available in the Item Shop during Haunted Hallows. Additionally, there will be three Bat-Signal Goal Explosions that show off the Bat-Symbol from three different eras. All Batmobiles and Goal Explosions will be available in the Batman Halloween Bundle for 2000 Credits, alongside individual Batmobile Bundles, plus the ability to purchase the Reel Life Decals and Goal Explosions separately.
· Beckwith Park (Gotham Night) Arena Variant - This new limited-time Arena has been transformed by the Super-Villains of Gotham City.
The Haunted Hallows Event also signals the end of last week's 007 celebrations which offered up plenty of Aston Martin content.