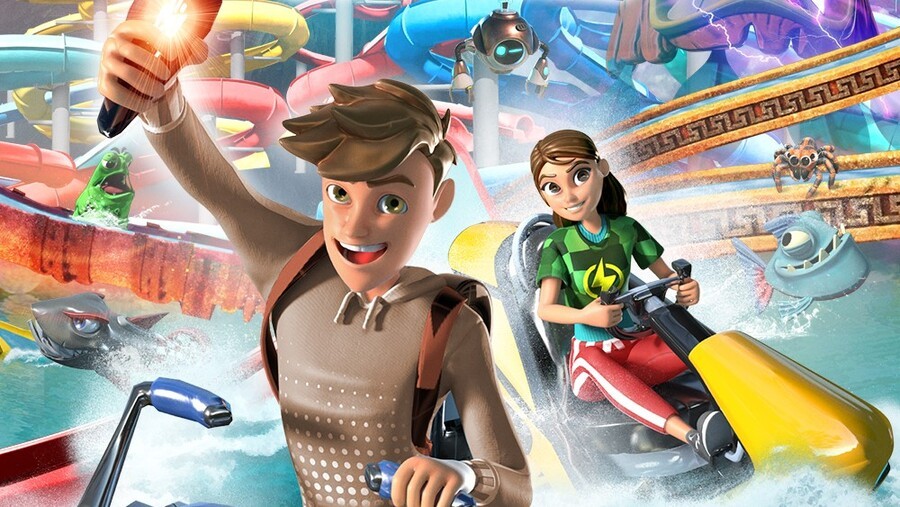 Triangle Studios' Mickey Storm and the Cursed Mask, a colourful 2.5D action platformer set in "the world's greatest waterpark" hits Nintendo Switch tomorrow (August 24th).
As spotted by Nintendo Everything, this game charges you with navigating some 74 wild water rides in order to save their famous spy parents and pairing up with a special spy drone named B.U.D.D.Y as you blast in, around and down its various danger-filled arenas. It also features some local co-op enabling two people to play as Mickey and Jenny Storm as they battle to save their (obviously inept) super spy folks.
Here's a little more in-depth info from the official PR blurb:
• Platform, slide and choose your own route through 74 adventure-soaked levels
• Face nail-biting challenges in all of the areas in the waterpark. From the Tropical Trove and Volcanic Vistas to the Futureland and Forgotten Jungle
• Unlock 16 wild rides: including a Spy Scooter, Jetski, Penguin, Roborca (an awesome robotic orca)... and many more!
• Be ready! As you'll face Dr. Fisher in various boss fights!
And here's some delightfully colourful screenshots to check out while you wait for the official trailer over on Youtube to unlock and give us all a glimpse of this one in action!
Mickey Storm and the Cursed Mask will be on the eShop pronto and will set you back $17.99 / £13.49. Additionally, 5% of each purchase goes to War Child, an organisation that supports children in conflict-affected areas.
Will you be slipping and sliding your way through this one? Let us know in the comments.
[source nintendo.co.uk, via nintendoeverything.com]