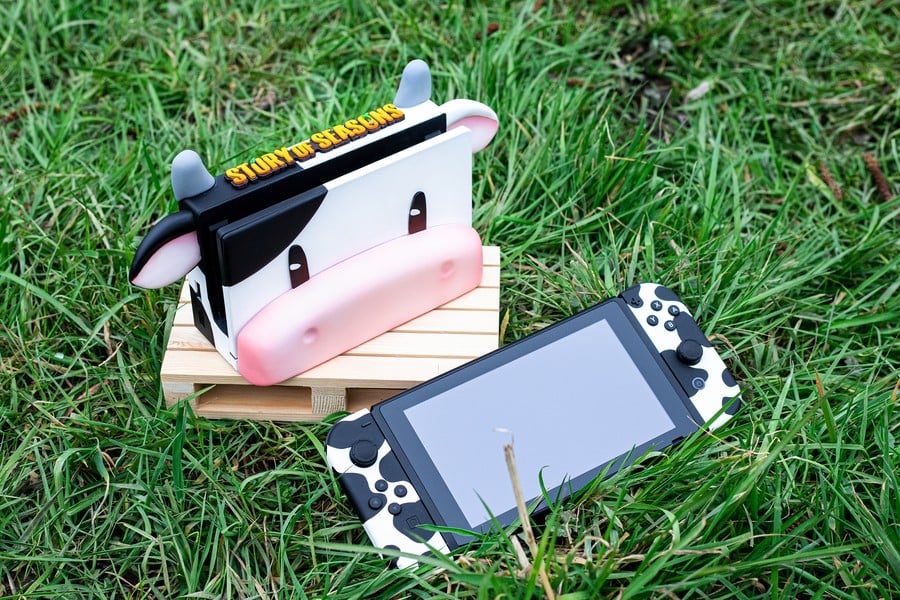 Ohoho, branching out into puns en français, are we? BIEN SÛR, mes amis. Nous sommes an equal opportunity pun website. What's that? We're not a pun website? We cover Nintendo news? Hm, if you say so.
Whether or not you've put down actual money for Story of Seasons: Pioneers of Olive Town, you have to admit that this Nintendo Switch is une œuvre d'art, n'est-ce pas? Just look at its little snout! Plus, it'll go perfectly with our cow-print sofa, cow-print rug, and cow-print house-trained cow.
But anyone can win it: the unique Switch, made by plastic artist Vadu Amka, is a prize in a competition that's running right now to celebrate Story of Seasons' latest release.
Quoi? You're wondering why all the French? Oh, that's because it's a competition run by a French video game website, Jeux Vidéo. Quite a tenuous link, for sure, but we just wanted to practice our French, if you'll pardon our French.
As the site says, it's easy to enter the competition: "il vous suffit de suivre le compte Twitter de Jeuxvideo.com et de RT le tweet ci-dessous." Easy, right?
(Translation: "You just have to follow the Twitter accounts of Jeuxvideo.com and retweet the tweet below.")
Et voilà, le tweet lui-même:
The competition ends on the 29th March, so get your entries in aussi vite que possible.
Ah, what's this? Fine print? Well, we'll translate for you, since we're nice like that: "Unfortunately, this cow-print Nintendo Switch is deserving of only one owner, and that is Kate Gray of Nintendo Life, who will give this Nintendo Switch all the love and care it needs. We apologise for this misunderstanding." Huh, how weird!
[source twitter.com]