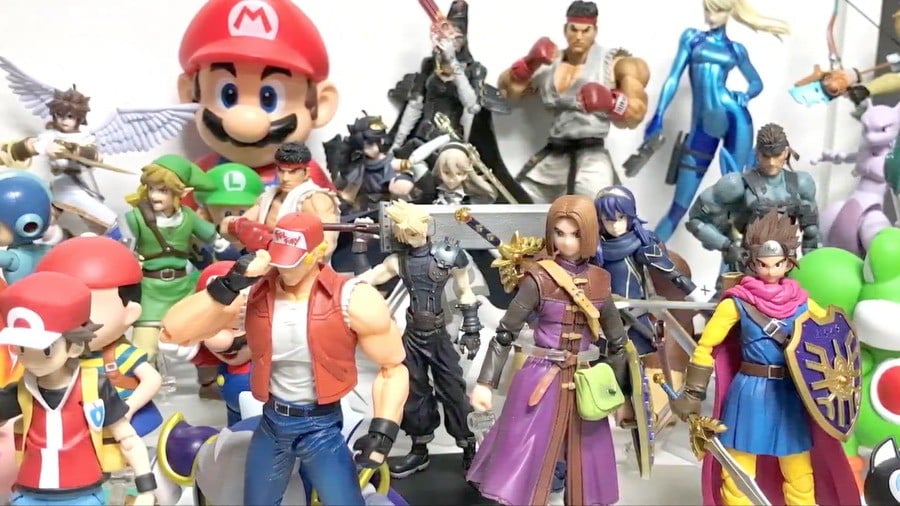 Today's 'Mr. Sakurai Presents' video contained plenty of great news for fans of Super Smash Bros. Ultimate – including the release date for newest fighter duo Pyra/Mythra, of course – but the series director also slipped in a quick anecdote about upcoming fighters.
Towards the end of the video, Sakurai took a moment to show off a collection of 3D figures that he's gathered as part of the Smash team's development process. While not always 100% accurate to the in-game models, Sakurai notes that the figures can be useful for the team to get a grasp on how a character might look from all angles, such as the bottom of their feet – something that needs to be included, but isn't necessarily seen in original material.
There were some pretty cool looking figures on display, including models of both Pyra and Mythra, but just as we were being treated to a look at the collection, Sakurai revealed that he has figures of upcoming, unrevealed fighters sitting in the office, tucked away inside a locked drawer.
"I have a lot of figures at my desk in the office. I actually hide figures of unreleased fighters in a locked drawer. Not that we can go into the office right now."
There's something rather comical about a single drawer containing all the answers to one of the Nintendo community's biggest topics of discussion – can you imagine how tempting it must be to just tell everyone what's coming next?
How many hours until 'leakers' start taking blurry photos of random figures in a cupboard they have at home?