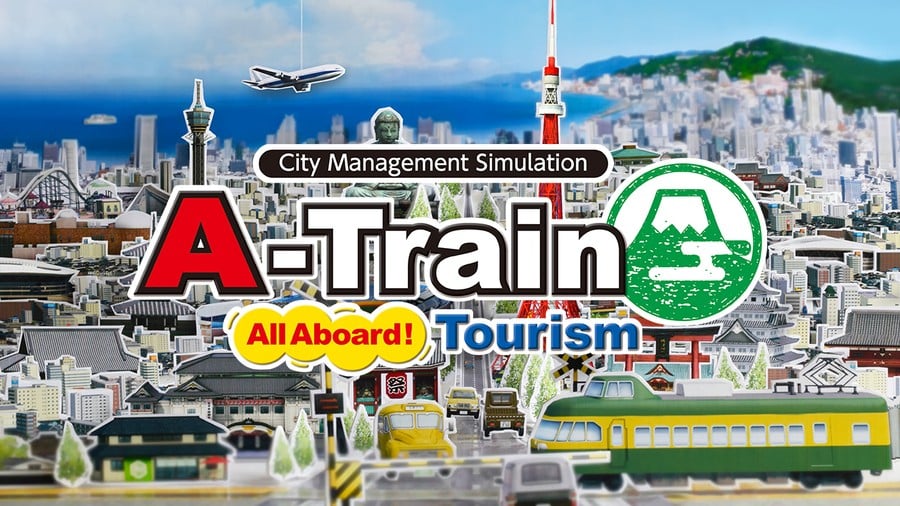 A-Train's got a long history behind it. First released back in 1985, this train simulator series has had quite a reach, going from the Famicom to PlayStation VR. A-Train: All Aboard! Tourism is next on Switch and, previously, it was only confirmed for Japanese release. Until now.
Launching on March 12th, A-Train's also coming to North America and Europe. It's developed by Artdink – best known on Switch for Project TRIANGLE STRATEGY – but unlike previous entries, Nintendo is directly publishing this one.
Confirmed via a Switch eShop listing, you can find a full outline below.
A-Train, the classic urban development simulation game that allows you to create the city of your dreams, is now available on the Nintendo Switch!
Become the president of your very own railroad company, laying tracks and running your trains as you see fit. However, you will be responsible for more than the railroad. You'll also be tasked with managing subsidiaries, playing the stock market, and participating in urban planning, in order to develop and expand your town.
This latest installment in the A-Train series introduces the element of tourism to the urban planning formula, and focuses on building up towns into bustling tourism capitals. Providing realistic business management simulations of financing, investing, and more, as well as a wide variety of customizable options for all your vehicles, A-Train: All Aboard! Tourism is packed full of features for you to explore. But don't be overwhelmed—players old and new alike will be able to jump right into the series thanks to the fun and practical tutorials provided in the early stages.
A-Train: All Aboard! Tourism is up for pre-order now on the eShop, costing £53.99 / €59,99 / $59.99. If that seems a bit steep, a free demo has also been made available.
Will you be trying out A-Train? Share your thoughts below.
[source nintendoeverything.com]