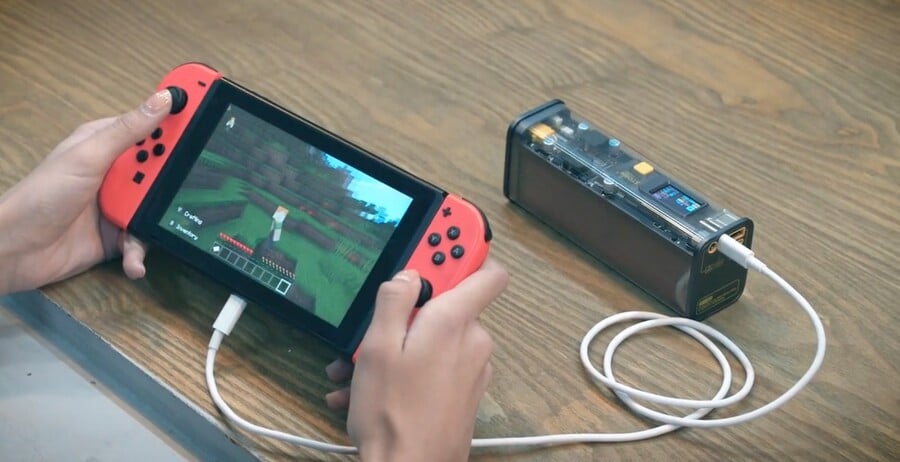 Portable power banks are a fact of life in 2021, because we all own smartphones, wireless headphones and other portable devices which are so power-hungry they need charging on an almost daily basis. Keeping this in mind, it takes something truly special to grab our attention, and the recently-Kickstarted Storm 2 does just that – in more ways than one.
Arun, CARIT and NAXIM – the collaborative team behind this 'Sci-Fi EDC Power Bank For Digital Nomads' (their words, not ours) – are making a big deal out of its 'cyberpunk' stylings (perhaps not the best connection to make at the moment), but we have to admit, this effortlessly ranks as the coolest-looking portable battery we've ever laid our eyes on. Batteries aren't exactly sexy, but this one somehow is.
We were lucky enough to get a unit to review, and it looks even nicer in the flesh – as we all know from the special editions of the Game Boy and Game Boy Color, everything looks better when it's transparent, and the tiny screen which shows data such as charging levels and total battery capacity makes it look like something out of an episode of Star Trek.
However, looks alone will only get you so far, and thankfully, the Storm 2 impresses on a technical level, too. It's got 2 USB-C charging ports that can fast-charge most modern devices and an old-school USB-A port, and its 27600mAh / 99.36Wh capacity is going to be enough to satisfy the needs of most people. Via a USB-C connection, it charges in around one-and-a-half hours.
What impressed us the most is that this beast is capable of providing power not only to our docked Switch, but also to a portable 1080p monitor – which means you can take your big-screen experience anywhere, even when you're away from a plug socket. Fancy some large-format 1080p Switch gaming in the park? Now you can! Even if you're of the opinion that the Switch's 720p display is perfectly fine when you're out of the house, the Storm 2 can charge your console (and all of your other devices) many times over, making it the ideal portable companion (you can even charge multiple devices at once, which will make you a real hit at parties).
The Storm 2 has clearly found its market already, as the Kickstarter campaign has reached more than £123,000, utterly destroying the initial goal of £7,286. You can secure your own 'early bird' unit for around £77 / $99, which is a lot for a portable power bank – but then again, this isn't just any portable power bank.
[source kickstarter.com]