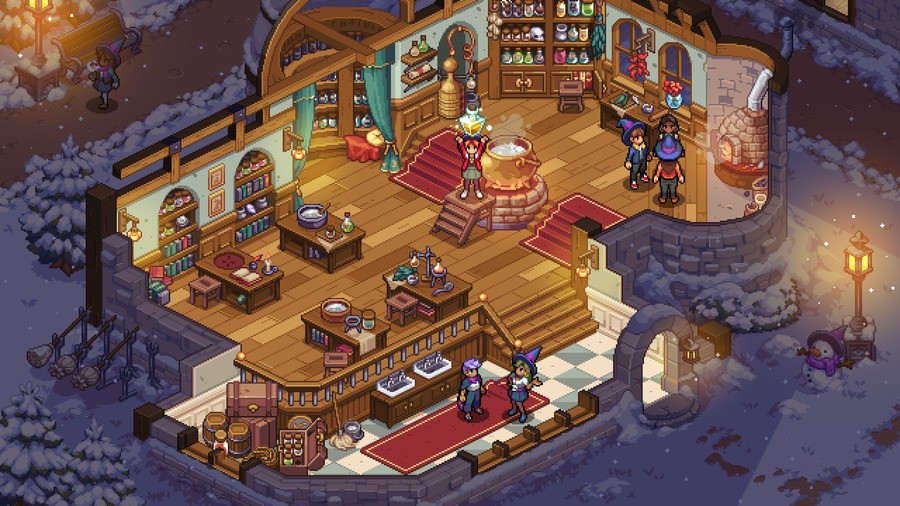 Chucklefish's 'magical school sim' Witchbrook has a fresh new look, it has been revealed.
The game – which is being developed at Chucklefish's London-based HQ – has been in development for a while now, and previously sported a top-down 2D look. That's now been replaced in favour of an isometric viewpoint which looks pretty great in the screenshots shown below.
Here's the official description for the game:
Experience the thrills and pitfalls of school-life in Witchbrook! Discover a spellbinding isometric pixel art world full of charm and intrigue in this richly detailed magical school and town life simulator.

Forge your own identity as a witch-in-training on the road to graduation. Build relationships with fellow students and townsfolk, develop your magical abilities by attending classes and completing assignments. Participate in extracurricular activities such as fishing, growing magical crops and foraging strange mushrooms. Master secret spells, make friends for life and unravel the mysteries of the school...
Who will be your best friend? Your rival? And your date for prom?
Chucklefish – which published Stardew Valley at one point and released the superb Wargroove a short time ago – hasn't announced which platforms Witchbrook is coming to, but we'd imagine Switch is in with a decent shot.
The company has endured a pretty tumultuous few months, with its association with Stardew Valley – arguably the game that gave Chucklefish its initial fame – was reduced to the Android and iOS iterations last year when the original developer Eric Barone opted to self-publish all other versions of the game amid allegations that the studio had exploited contributing workers during the development of its space RPG Starbound. Barone had already begun self-publishing the PC, Xbox, PS4, and PS Vita editions at the end of 2018.
Chucklefish then found itself embroiled in more drama after it used white actors to voice non-white characters in the free DLC expansion for Wargroove, Double Trouble – something the company promptly apologised for.
The official Witchbrook site is also live.