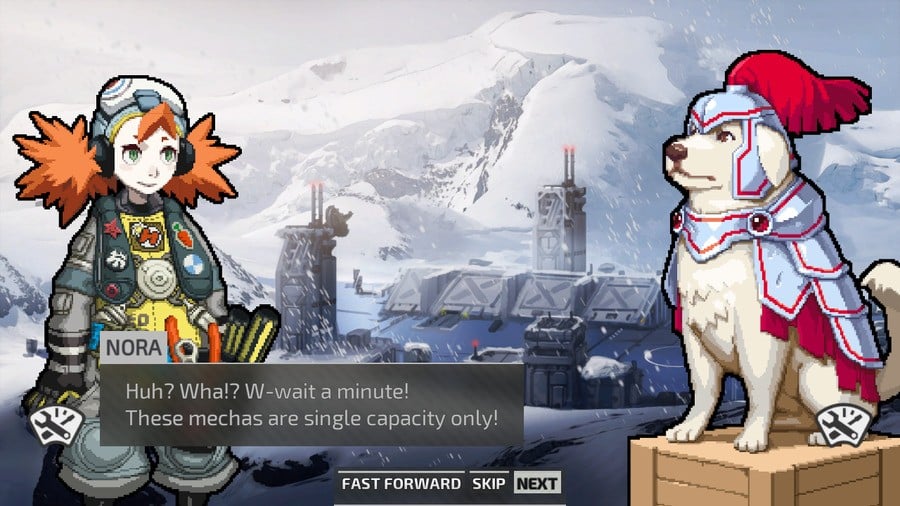 Tiny Metal: Full Metal Rumble is getting a brand new - and completely free - DLC campaign today starring none other than Caesar of Wargroove fame.
In the new campaign, Tiny Metal's Nora must team up with Wargroove's canine star to save the world. You'll need to outmanoeuvre enemies to deliver Caesar safely back home to the Kingdom of Cherrystone, but things are a little different this time around:
Pixel Perfection
In this new challenge, the world of Tiny Metal has been transformed into a pixelated version of itself, in signature Wargroove style!

Special Rules
Players of the DLC campaign will be given an initial set of units which will be used throughout all 5 DLC chapters. You'll need to use survivalist tactics to ensure as many units as possible make it through to the very end! But don't worry, Caesar's mere presence is enough to guide any troops through the toughest of battles. Didn't we tell you, he's inspiring.
As noted above, this DLC is launching today on Nintendo Switch. If you don't yet own the base game or want to learn more about it, make sure to check out our full Tiny Metal: Full Metal Rumble review. Here's a snippet:
Tiny Metal: Full Metal Rumble surpasses both its predecessor and the recent Wargroove to become the number one Advance Wars clone available on Switch right now. Indeed, it may be fair to say that this time around Area 35 has beaten Advance Wars at its own game with a super-tight and generous SRPG that takes the best from the greats it emulates and wraps them up in a much more modern and satisfying package.