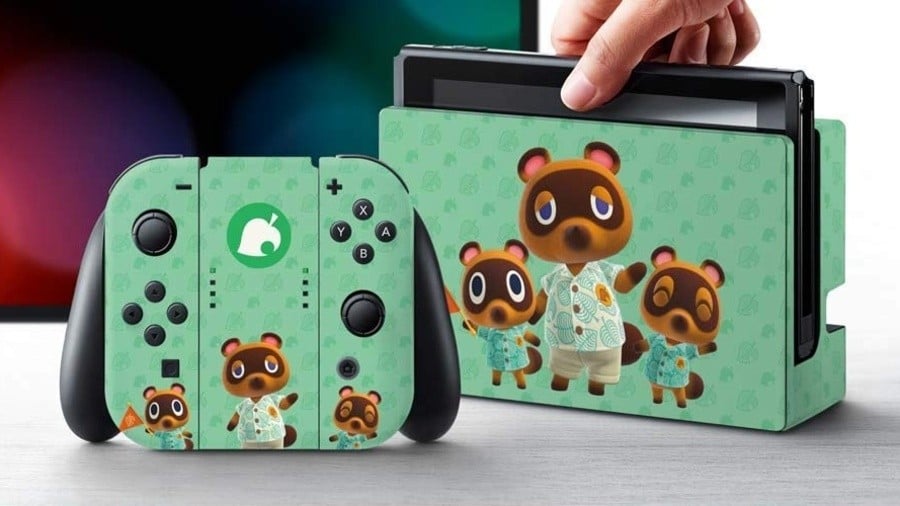 Yesterday, Nintendo revealed an adorable new Animal Crossing: New Horizons Nintendo Switch.
Depending on where you live, it may or may not come with a download code for the game. Either way, it's a rather expensive purchase and if you already own a standard Switch, you might be struggling to justify why you need this new design.
Fortunately, there are some alternative and much cheaper ways to celebrate the new Animal Crossing entry. For starters, the same themed dock and Joy-Con set will be sold separately in Japan. If you're looking for something even more affordable, though, you can always opt with these officially licensed Animal Crossing: New Horizons skin bundles by Controller Gear, for $19.99. Both designs are available to purchase right now from Amazon.
They cover the Joy-Con and Switch dock top to bottom in appropriately-themed designs. One features full graphics and is called 'Tom Nook & Team' and the other is known as 'Tom Nook & Friends'. The skins are completely scratch resistant and won't leave any sticky residue when removed. And to top it off, they both come with a screen protector.
Have you applied a skin like this to your Switch before? Tell us below.
[source amazon.com, via amazon.com]