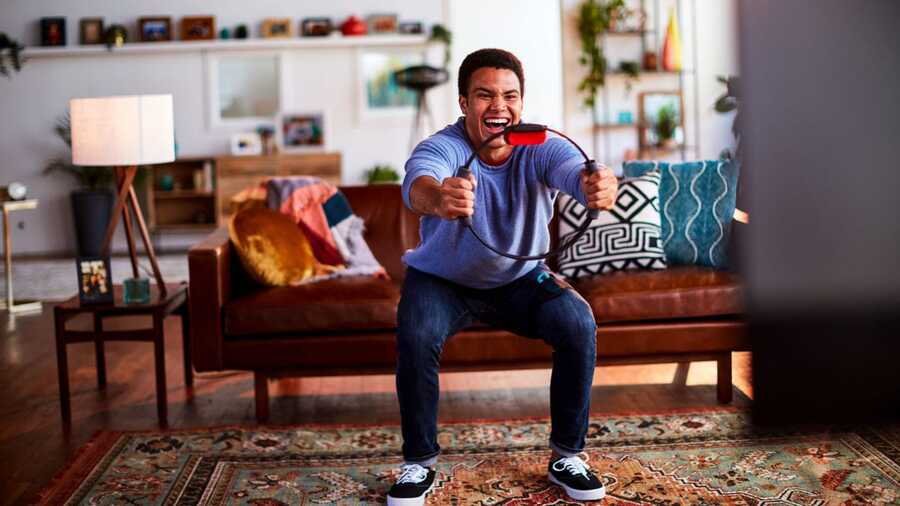 Want to show off your impressive pecs in a safe-for-work, wholesome sort of way? Well, Nintendo of Europe has taken to Twitter to task Ring Fit Adventurers with the Pectoralis Major Challenge, the first in a set of weekly challenges to blast those quads, grip those glutes and generally get 2020 off to a healthy start.
Anyone lucky enough to have a copy of the hard-to-find fitness game is encouraged to grab their Ring-Con, test how many presses they can manage in 20 seconds and tweet the results at Nintendo:
There are no prizes for participating except a warm glow of satisfaction and a pleasant tight feeling in the chest (as opposed to the unpleasant tight feeling in the chest we experienced on Boxing Day after a box-and-a-half of Cadbury's Roses).
We're big fans of the game (we featured it in our Alternative Game of the Year Awards - twice, in fact, if you include the unnerving video that revealed the game proper), although as we reported earlier in the week, some of Team NL have had trouble finding a copy. Despite Nintendo throwing down the gauntlet, stock shortages in many countries might make participating even more challenging. We've had difficulties and it seems that various Twitter users are stuck in the same boat:
Despite being naturally incredible physical specimens (ahem), in this post-holiday period it must be said that we'd certainly benefit from getting in on this and the upcoming January challenges. Chance'd be a fine thing.
Have you been using Ring Fit Adventure to get 2020 off to a honed and toned start? Let us know below and check out our list of the best fitness and exercise Switch games if Ring Fit has got you in the mood to move.
[source twitter.com, via gonintendo.com]