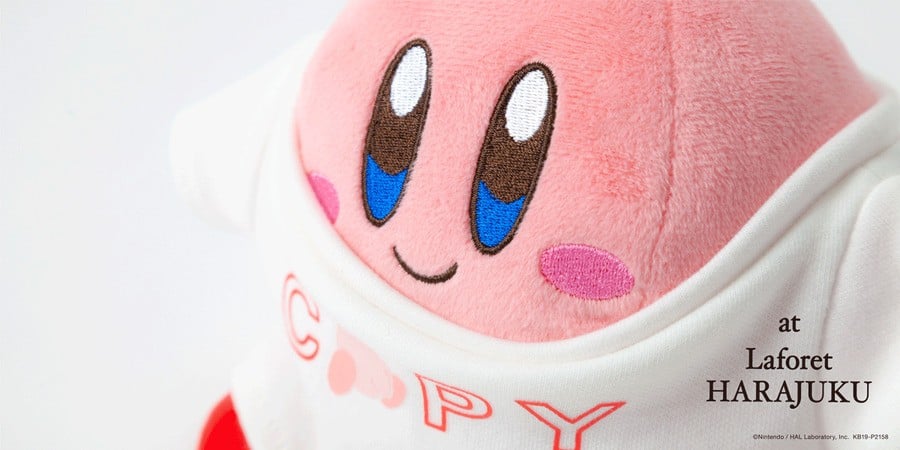 As you may know, Kirby was recently voted as the most popular Nintendo mascot in Japan via a poll conducted by Nintendo Dream, a popular Nintendo-centric magazine in the region. Love for Kirby runs deep in Japan, and merch is never too difficult to find in gaming stores. From a permanent café soon to open to collaborations with local chains such as ITS'DEMO, Kirby always has fans flocking for more.
Laforet, a popular shopping mall in Tokyo's fashion town, Harajuku, revealed that a Kirby pop-up shop will be opening from December 16th through December 26th. During these ten days, Kirby fans can buy a slew of unique merch exclusive to Laforet.
First, for a collaboration, the popular illustrator Masago Sekine will feature apparel and fashion goods including original art and English text.
T-shirt M / L (9 types) ¥3,900
Hoody (2 types) ¥ 6,000
Pouch (2 types) ¥2,300
Canvas lunch tote (2 types) ¥1,250
Tote bag ver.1 (COPY) ¥1,500
Tote bag ver.2 (PINK STRIPE) ¥2,800
Smartphone case (6,6S, 7,8) (9 types) ¥2,500
Smartphone case (X, XS) (9 types) ¥2,500
Canvas pouch (2 types) ¥1,800
Stuffed plush ¥2,300
Mug (2 types) ¥1,800
Tumbler ¥3,500
B5 ring notebook (3 types) ¥750
Sagar keychain (4 types) ¥1,500
Acrylic keychain (2 types) ¥800
Handkerchief (3 types) ¥1,000
Clear file (2 types) ¥450
Design badge (13 types) ¥350
Each pass case (2 types) ¥1,800
Clutch bag ¥2,500
Blanket ¥3,800
Kirby is also collaborating with CONVERSE STARS to bring even more goodies!
T-shirt size M / L (3 types) ¥6,500
Long T-shirt Size M / L ¥7,800
Hoody (2 types) ¥9,800
Cap ¥5,800 yen
Socks (2 types) ¥1,800
Socks (long) (2 types) ¥2,000
Smartphone cases (2 types) ¥3,800
Pouch ¥2,800
Hand towel ¥1,200
Tote bag ¥3,800
Finally, the main collaboration and pop-up shop with Laforet itself. These items are exclusive to the mall.
Motel key ring ¥900
Rubber keychain ¥900
Sticker (3 types) ¥500
Mug (2 types) ¥2,000
Laforet Harajuku-limited color T-shirt size M / L (2 types) ¥6,500
Laforet Harajuku-limited color tote bag ¥3,800
You can check out the full range on the official site right here.
Do you have a character you'd like to see more unique merch for? Let us know in the comments.
[source famitsu.com, via playfulkirby.jp]