Strictly Limited Games, a publisher which specialises in releasing limited runs of physical indie games, will launch two editions of the upcoming Bubble Bobble 4 Friends on Nintendo Switch, it has been revealed.
Both editions will be going up for pre-order exclusively from the Strictly Limited Games online store on 27th October. The limited Standard Edition will be offered with an exclusive cover and individual numbering (for 39.99€), while the Collector's Edition comes at a significantly pricier 89.99€. What do you get for the extra cash? Well, all of this...
Exclusive cover with individual numbering
High-quality collectors box with magnetic closure
Original soundtrack from TAITO's legendary "House Band" Zuntata (includes the soundtrack from Bubble Bobble 4 Friends and the original music from Bubble Bobble)
Hardcover book, providing fascinating insights into Bubble Bobble
2 sheets with a stylish marquee and artwork stickers
Bubble Bobble Instruction Card
Bubble Bobble Arcade Flyer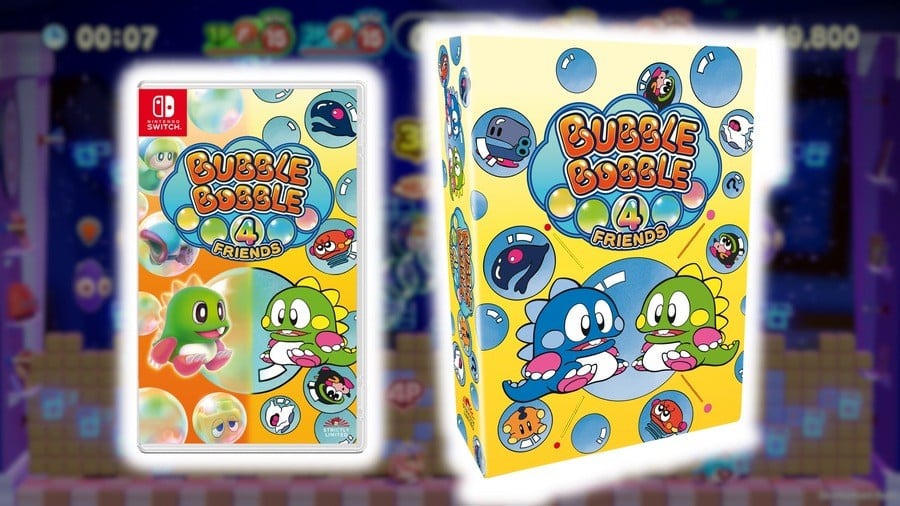 If you've missed the news, Bubble Bobble 4 Friends is the latest game in Taito's popular Bubble Bobble series, giving players 100 brand new levels to enjoy and a further 100 levels from the original Bubble Bobble Coin-Op version from 1986.
The game will be available from 19th November in Europe and Australasia and from early 2020 in North America.
Are you tempted by either of these physical editions? Excited for the game? Tell us below.