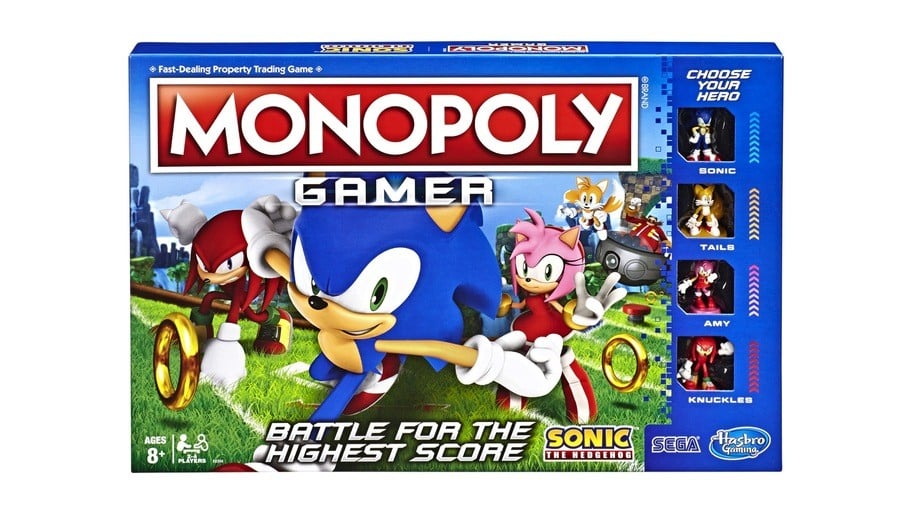 A new Sonic Monopoly game has hit the market and Sega has given us a glimpse of what to expect when picking it up from stores.
Called 'Monopoly Gamer Sonic the Hedgehog Edition', this version of the classic game ditches the standard tokens, allowing players to zoom around the board as Sonic, Tails, Amy, or Knuckles. You can buy themed properties such as Planet Wisp and Rooftop Run, and Passing Go now triggers a co-operative boss fight instead of rewarding you with the usual $200.
Here it is in action:
MONOPOLY MEETS SONIC THE HEDGEHOG: This Monopoly Gamer board game features Sonic the Hedgehog series themes, art, and characters
RACK UP POINTS: In the Monopoly Gamer: Sonic the Hedgehog Edition board game players grab Rings, buy property, and beat bosses to earn points to win
CHAOS EMERALDS: Battle bosses for Chaos Emeralds. Having more Emeralds means it'll be easier to beat Dr. Eggman
SPEEDY DIE AND BOOST DIE: The numbered die only has numbers 2 through 7 for faster movement around the gameboard. Activate a boost ability -- maybe even a super boost -- with the boost die
CHOOSE A HERO: Move around the gameboard as a favourite character: Sonic, Tails, Amy, or Knuckles
It's available to buy as we speak at Walmart for $19.99, but other retailers are expected to join in on the action from 1st October.
Speeding up a game of Monopoly does sound like a good idea to be fair. Maybe one for the Christmas wishlist?