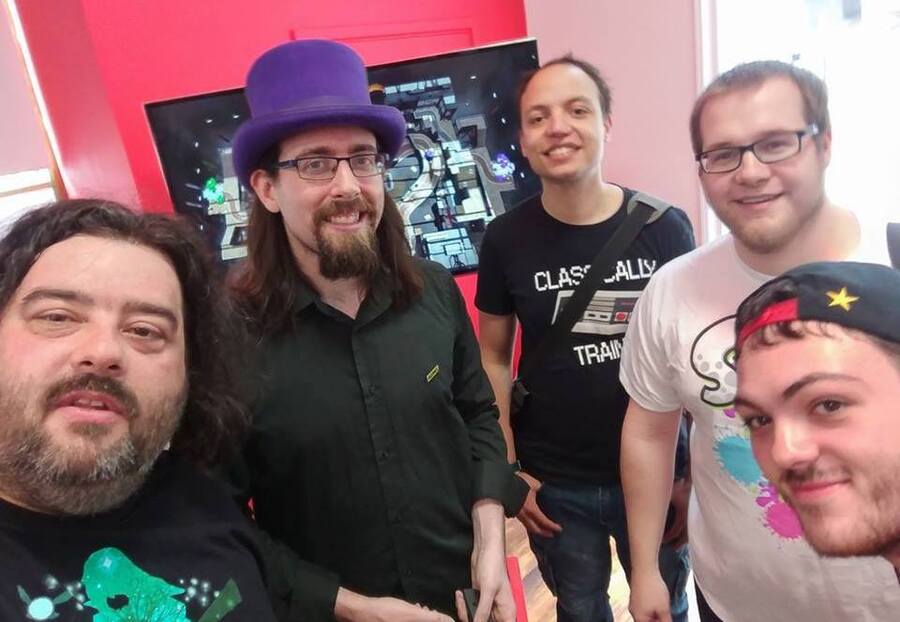 All good things must come to an end, and for Nintendo UK Community Manager James Bowden, the end is nigh.
The man famous for his fetching line in headgear is leaving Nintendo UK and moving onto pastures new, and we couldn't bear the thought of him passing into the night without some kind of tribute post to thank him for all his hard work over the past four-odd years. James has been an integral part of our experience with Nintendo UK, often appearing at events to talk us through new games and to share a friendly word (or, indeed, meal and drink).
However, he's also been instrumental in cultivating and supporting the vibrant Nintendo community which exists in the UK; a vital lifeline between the fans and the company itself.
With that in mind, we're going to pass you over to some of the people in the Nintendo fan community who have worked with James over the past few years so they can properly share their thanks.
Mark McAllister – Nintendo Gloucestershire Founder
I can't thank James enough for all he has done for our group. The monthly community calendars have helped bring more people to our monthly events, and in turn have allowed us to put on bigger tournaments and challenges. He has paved the way for what i hope will be a new standard of communication between community groups and Nintendo UK.
Paul L. Russell - Nintendo South Wales Founder/NPUK Admin
As the former head of Nintendo Manchester, when James got the job of Nintendo UK Community Manager, the NPUK community felt like we had one our own on the inside. He's been instrumental in establishing closer ties between Nintendo and NPUK. Examples include the NUK Community Calendar, highlighting NPUK events on the official Nintendo UK website; organising trips to the Nintendo Switch UK Hands-On Premiere Event in London, and NUK HQ in Windsor for NPUK members, as well as the continued involvement of NPUK communities in national Nintendo competitions for games such as Splatoon 2, ARMS and Super Smash Bros. Ultimate. I think I speak for us all here at Nintendo South Wales when I say that he shall be missed.
Jen Griffiths – Nintendo North Wales Founder/NPUK Admin
In the days where I was too shy to network (a year after I'd initially set up my own community), a few of us took the plunge and went to Manchester's Big Luigi, noticing it seemed to be a city version of what we were trying to make. That day changed everything! We met James and his crew, they were so friendly and supportive from the word go! James was head of StreetPass Manchester back then, and it was from this particular event that we based StreetPass North Wales' event templates on, and pretty much have done ever since!

He helped us get set up, linked us to what became the hub we know now as Nintendo Players UK. My motto for North Wales on the NPUK website has always been "Waving the flag for North Wales" (in Welsh, of course!) and James has helped us do just that for the last nearly 7 years! He did, however, start off by suggesting that we merged our group with South Wales' group (which I likened to Manchester merging with Bristol). From that point on he has been much more aware of his geography!
Our first ambitious plans as StreetPass UK (and North Wales) was MiiVision in summer 2014. We tried to persuade other groups to visit and James himself turned up and took part. We managed 7 different regions, and although the numbers were quite low, it made its mark on the calendar! The following year, North Wales collaborated with South Wales in Aberystwyth. James was the UK Community Manager by then, and was able to offer full support to make sure the event could happen. He managed to make the trek to the middle of nowhere himself and actually help to run the event, meaning he could actually present the trophy to the winning side at the end of the day too!

In that same year, he got all the different groups to meet up for the Smash finals, in Birmingham. In 2017 he also organised for the different groups to meet at the Switch Premiere in London. Opportunities that were once in a lifetime chances not to be missed! We've appreciated the support for all of our events of course, but those bigger ones are the ones that we remember the best!
Emily Jane Morgan – Nintendo Norwich Founder
It might be easy for us to forget, but those who work at Nintendo UK aren't just working corporate and sales targets; they are incredibly dedicated fans, excited for every event, release, and announcement just as we are. Their passion shows in the work they do. James is no exception!

What I learned from my time working with James both as a freelancer, and as a community admin, is that you can absolutely be a brand ambassador whilst still being very true to your own sense of self and values. That is something I have since tried to apply in my own roles.

James delivers a personable, jovial, kind and considered approach to all of his roles for, and interactions with, the Nintendo community. Particularly for me, in starting my volunteering as Admin for Nintendo Norwich, James exercised much of his personal time to help me find my feet and my confidence within the role. This wasn't something he was obliged to do; He went above and beyond, unprompted, to support our community in Norwich. He listened to my concerns, my questions, and was always willing and ready to offer solutions and suggestions. All the feedback and advice I received from James, has led to a local community which we are proud to run.
Community isn't about the numbers, it is about the atmosphere, the feeling of welcome which invites individuals into our world of Nintendo. James has that unique ability to make everyone feel welcome, not one person an afterthought, and putting the joy of gaming at the centre of his Community Management values. A very rare thing indeed.

(This is also a good opportunity for me to thank James for humouring my poor show of Worms W.M.D. with him on a Twitch Stream about a year ago. I'm sorry about the dub step gun.)
Fayyaz Dawda Social Media Manager – Nintendo Players UK
Over the past few years, Nintendo Players UK has been going strength to strength and his influence is a pretty key part of it. My role usually meant handling Blog posts, Socials and some Community Management, too. In that time James has been community manager had given us an opportunity to be apart of the broader Nintendo scene. He had always fought for every corner of the community groups around the UK.
One of the very first tournaments I got to be a part of was ARMS UK Championships with groups coming together to face off in the final at Insomnia. It was this tournament I made graphics for the individual tournaments and video editing teasers to promote it for the first time. It was also thanks to this that gave me confidence to produce something of this type for the variety of different of tournaments.

To be honest, every year James tried to bring the communities together in some way like this. I could list off individuals years but none was more prevalent than earlier in 2019 during the Super Smash Bros Ultimate European Smash Ball Team Cup 2019.

He never forgot about his roots as part of the community he helped build and encourage everyone who was a part of it to do it together. It usually goes unnoticed by how much James tries to do for the variety of communities, to keep us moving forward and upwards. We are lucky to have him and while he's only leaving NUK he isn't leaving the community – just helping a new one. So while I thank you for your support and help, I am not bidding you adieu. I look forward to seeing all the new memories you bring in your new role.
There is basically too much to say, I wanna talk about how he helped be more involved with the Smash and Splatoon communities. His work on bringing the groups to the Switch events. The fact that he had allowed me to make content for NPUK has been the greatest influence he has had on me.
Anthony Haigh – Nintendo Basingstoke Founder

James Bowden has become a huge integral part of our group at Basingstoke, over the years he has really supported us from advice and guidance to actually attending more events than I can count! It is always a happier room when the Top Hat is in attendance, the conversation seems to somehow be more diverse and passionate!

Through the odd supply of the new game just being released to a stack of Eshop credit for us to give away at our various events, tournaments and competitions nothing has ever been too difficult for James to organise, even ensuring that there are tickets for our group to attend special events has been amazing! Ensuring a group of us got to meet the voice of Mario at the launch of Mario Maker and to be able to experience the Switch before its launch in London were just a couple of the amazing events he has organised for us to attend!
As my involvement with NPUK has evolved with the organisation of various national group tournaments from Arms, Smash Brothers and my own personal project, the 'Awesome Squid League Splatoon 2 National Tournament'. James has always been on had to assist with things! From just advise to actually allowing us to hold Grand Finals for some of our national tournaments at events such as EGX and Insomnia! As well as organising travel and entrance to events, trophy's and prizes! His contributions have been beyond what you would ever dream of getting from a community manager! He really has pushed to help NPUK and all the individual groups grow as much as he can.

Beyond his involvement with our group we have become really close friends, and I shall miss his cryptic comments when I am fishing for Nintendo News! Because, of course, he is making it impossible to decipher or just leading me somewhere for fun!

Nintendo has been an amazing experience for James and they have been very Lucky to have him as the best Community Manager in the UK!
Tony Stephenson – Nintendo Nottingham Founder/NPUK Admin
So the Top Hat man's adventures at Nintendo are coming to an end. It's a sad day, but new quests are now on the horizon for Sir James (as I affectionately refer to him when begging for eShop credit!)

James has had a massive impact on the Nintendo Community all over the UK. On a personal level, he was one of the main reasons that I started Nintendo Nottingham – known back then as StreetPass East Midlands. The support he has provided has been second to none.

Building on the work done by his predecessor – Mr Town – James grew the community not just at a local level, by supporting the various Nintendo Players UK groups up and down the country, but also nationally. James drove the community by bringing Nintendo back to the floor at big conventions all over the country. Insomnia, EGX, Hyper Japan as well as Nintendo starting their own 'little' get-togethers with Nintendo VS UK.
He was also the driving force behind organising big community driven tournaments for games like Super Smash Brothers Ultimate, Splatoon 2 and even ARMS – only James could do that! We will never forget our time spent at the Switch Launch event, meeting Mario himself at the Mario Maker Launch and our little trip to the heart of Nintendo HQ.

We, at Nintendo Nottingham, will be sad to see him leave. He has become not just a community pioneer but also a close friend along with the rest of his family.

So James, thanks for the memories. Enjoy your new voyage across the high-seas.