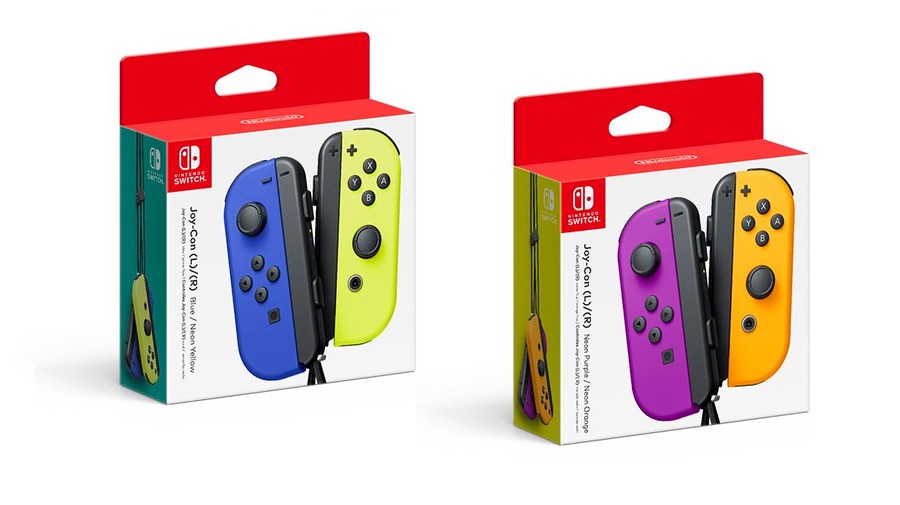 On 4th October, the fancy new Purple/Orange and Blue/Yellow Joy-Con are launching for Nintendo Switch. Pre-orders for both sets have finally appeared in the UK, so if you're after a new pair of controllers for your console, here's where to go.
We've stumbled across several options in the UK - GAME, Smyths and the official Nintendo store. Smyths is currently the cheapest option, although the official Nintendo store is naturally a safe bet when it comes to pre-ordering expensive items.
We've included some older options for those of you in the US, too:
Neon Purple / Neon Orange Joy-Con Pre-Orders
Did someone say custom Wario and Waluigi Joy-Con? We doubt this was Nintendo's intention, but fans of the Super Mario dastardly villains have been quick to point out that this lovely pair of controllers do look as if they could have been based on the pesky baddies we all know and love. Also, a purple Joy-Con? Yes please!
Blue / Neon Yellow Joy-Con Pre-Orders
Releasing alongside the purple/orange set is this contrasting set of blue and neon yellow controllers. The neon yellow Joy-Con are usually found as a same-colour set, so having one thrown in with a non-neon Joy-Con makes this option one of the more standout combinations.
---
Are you liking these new designs? Will you be treating yourself to either of these sets? Let us know with a comment below.