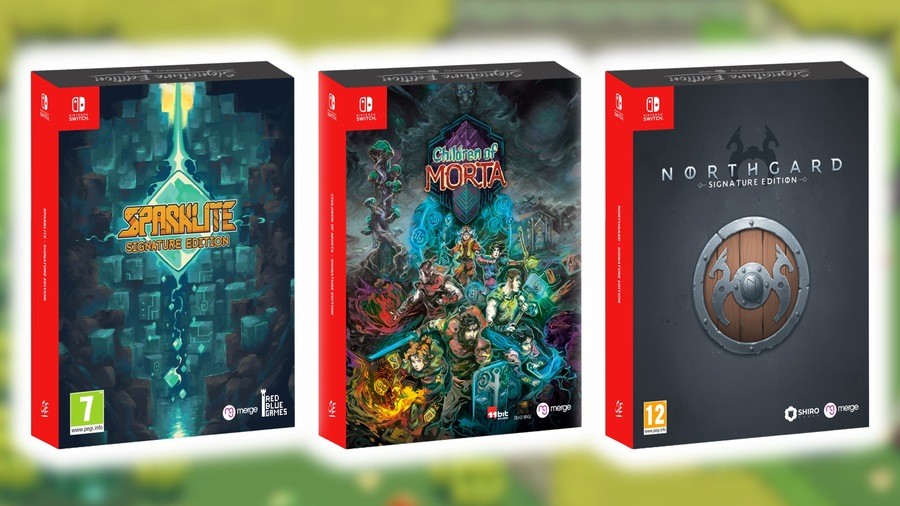 Three physical indie releases have become available for pre-order today through Signature Edition Games, giving you the chance to pick up beautiful collector's items and another red spine for your shelf at home.
The three games in question are Sparklite - we actually shared the announcement for this one just a few days ago, Children of Morta, and Northgard. We have plenty of details on each for you below:
Sparklite
Release: October 2019
The Sparklite Signature Edition includes:
Region free copy of Sparklite
Signature Edition Sleeve and Box
Original CD Soundtrack
Nano Block Figure
Numbered Certificate
Sparklite is an action-adventure set in a whimsical and ever-changing land. Battle foes in top-down action using an arsenal of gadgets, guns, and gear. Explore dangerous corners of the procedurally generated world, take down titans of the mining industry, and save the Sparklite!
Everything in the world is tied together by Sparklite... it's the life force of the planet, and the inhabitants have learned how to channel it for their own gain. It can be harnessed, or it can be consumed for a surge of power with grave consequences.
Children of Morta
Release: September 2019
The Children of Morta Signature Edition includes:
Region free copy of Children of Morta
Pocket Art Book
Art Card
Certificate
6 enamel pins featuring each family member's emblem
Children of Morta sets its story in a distant land but copes with themes closer to our daily lives than one would expect. It is a story of simple emotions we all know so well and value more than sometimes we dare to admit. Love and hope, longing and uncertainty, and ultimately loss and sacrifice.

Embark on the adventure of an extraordinary family of heroes. With the Corruption spreading through the land, guardians of the Mountain Morta have to stand up against an ancient evil. But... it's not a story about saving the universe. It's a story about a valiant family standing together while the world around them is being devoured by darkness.
Northgard
Release: September 2019
The Signature Edition of Northgard includes:
Northgard
Art Book
Soundtrack
Art Card
Certificate
Two Metal Pins
After years of tireless explorations, brave Vikings have discovered a new land filled with mystery, danger and riches: Northgard. The boldest Northmen have set sail to explore and conquer these new shores, bring fame to their Clan and write history through conquest, trading, or devotion to the Gods.

That is, if they can survive the dire Wolves and Undead Warriors roaming the land, befriend or defeat the giants, and survive the harshest winters ever witnessed in the North.
All three Signature Editions are available to pre-order now for £39.99 each; you can also pick up standard physical copies for £29.99.
Any of these take your fancy? Let us know with a comment below.