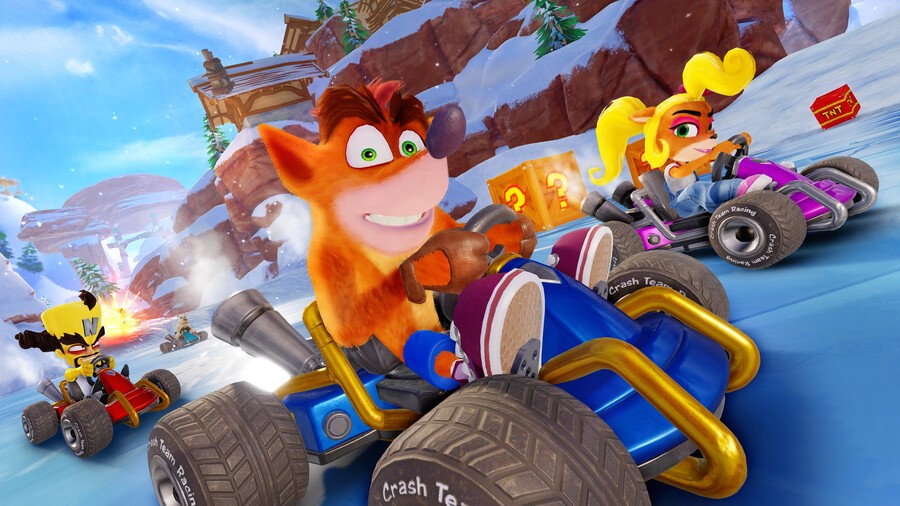 It's been a wild time for fans of the kart racing genre recently. Earlier this week Sega released Team Sonic Racing and Nintendo followed this up with the beta for Mario Kart Tour on mobile devices.
If this wasn't already enough kart racing action to keep you entertained for the rest of the year, next month Activision is launching Crash Team Racing Nitro-Fueled, a remake of the original 1999 PlayStation title developed by Naughty Dog. In a new episode of PlayStation Underground, Thomas Wilson – the co-studio head of Beenox – showcased 20-minutes of the game's adventure mode on the PlayStation 4. Take a look below:
Here is a bit more about the mode, courtesy of Wilson's post on the official PlayStation Blog:
In bringing the Adventure Mode back, we knew we had to hit all the elements that made the original so special. The challenges are the same — there are trophy races, boss races, relic races, token races, and gem cups. The characters are back — choose from Crash, Coco, Cortex, Polar, Pura, Tiny or any of the other starting lineup characters you remember from the original. And the thrill of earning new characters (like Ripper Roo and Pinstripe Pontoroo) is still a huge part of the fun.
However, we wanted to take things a step further for CTR Nitro-Fueled. Instead of just earning the boss characters like in the original, players will now earn something every time they win a race. Players will be getting new kart parts, character skins, or kart customization items with every victory. Also, players will now earn the boss characters immediately after they beat that boss, instead of after Gem Cups (which now unlock a new set of valuable prizes). This includes the ability to earn Nitros Oxide himself — though that is no easy task!
Finally, players will now have the opportunity to change to any racer, kart, or customization item they have already unlocked at any point in the Adventure Mode. Are you feeling like Crash gives you the best chance in Crash Cove, but Pura will dominate the competition in Tiger Temple? Swap him in! Do you dig that sweet new paint job you got after beating Ripper Roo? Immediately style your kart out with it. Did you earn enough Wumpa Coins to grab N. Trance from the game's Pit Stop? Get ready to bring that egg-shaped villain into the fray. It's all about earning new items, new characters, new karts, and making the experience feel like your own.
However, we know that there will be players out there who want to commit to one racer and one kart from the outset, just like in the original. For that reason, players will have the option of playing the Adventure Mode in one of two different ways: Classic or Nitro-Fueled. In the Classic setting, racers will still be earning all of the awesome items, characters, and karts as in the Nitro-Fueled setting, but won't be able to change their racer or kart in the middle of the Adventure Mode. For those players looking to mix things up along the way, the Nitro-Fueled setting is for you.
For some readers, this might even bring back memories of the adventure mode featured in Rare's 1997 Nintendo 64 game Diddy Kong Racing. During this time, a story mode in a 3D racing game was a relatively new idea.
Are you looking forward to playing the adventure mode in the remaster of Crash Team Racing? Will you be purchasing this game on release or are you sticking with Sonic? Leave a comment below.
[source gematsu.com]