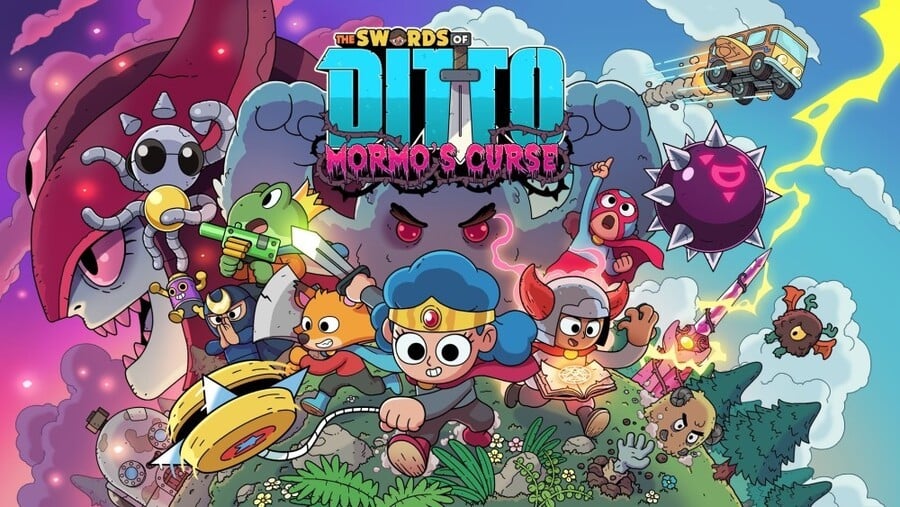 Coming this Thursday 2nd May, 'compact' action RPG The Swords of Ditto: Mormo's Curse channels 2D Zelda-style dungeons with co-operative play and charming animation. Coming from developer Onebitbeyond, The Mormo's Curse content adds extra locations, new weapons and baddies, and various tweaks to the original game which launched on other platforms in April last year.
The curse-wielding Mormo is an evil sorceress (is there any other kind?) who's causing problems for the whole kingdom. However, ancient legends foretell of local heroes on hand to save the day. You're tasked with collecting toy weapons from within dungeons, helping locals in exchange for supplies and taking the fight to Mormo herself.
The game's page highlight the following features:
Unique Adventures Linked Together: Each adventure becomes its own legend, both distinct from those that came before it and part of a heroic legacy that bind together. The deeds, successes, and failures of each hero's adventure have implications for those that follow including the ability to find weapons and recover loot from history's fallen heroes.
Solo & Cooperative Adventuring: Battle Mormo and her evil armies alone or summon a brave friend to take up arms alongside you in local co-op mode. Fear not, even less experienced adventurers will find help from their fellow heroes through the magic of a good old-fashioned revival hug!
Weapons, Items, & Stickers: Wield the traditional sword and bow combo alongside the decidedly less traditional vinyl record Frisbee, magic golf club, and colossal foot from the heavens to put Mormo and her legions back on their heels. Collect and equip stickers to boost up your hero and add perks to their gear to become powerful enough to banish the wicked sorceress.
Main Quests and Secret Side Missions: Approach your legend however you see fit by battling through dungeons in any order, completing side missions through dark caverns and deep wells, or confront Mormo right from the start for the ultimate challenge.
It certainly looks intriguing, as if somebody put Zelda and The Amazing World of Gumball in a blender. We won't have long to wait and see if that's a tasty combination or not.
Have you played the original release without the Mormo content? Will you be picking this up later in the week. Share your thoughts below.