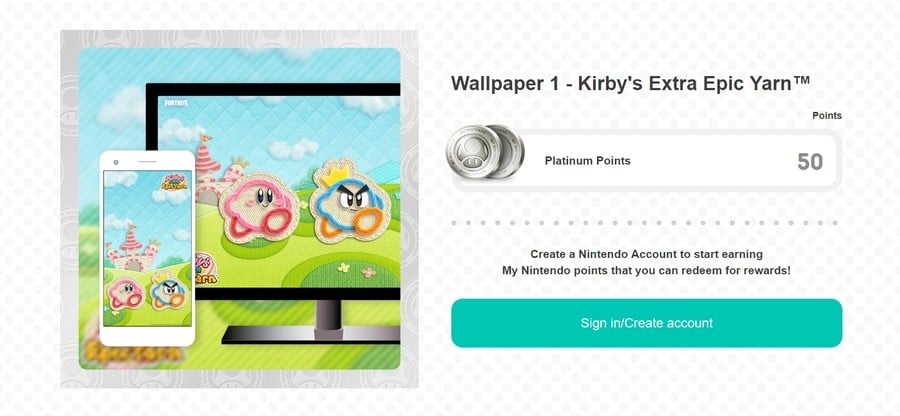 In case you missed it, Kirby's Extra Epic Yarn was recently released on the 3DS. This is an enhanced version of the 2010 Wii title. As with all of its software releases, Nintendo made a number of appropriately-themed goodies for this game available over on the rewards website, My Nintendo.
One of these was a computer screen wallpaper featuring the pink puffball and Prince Fluff against a bright and colourful backdrop.
As normal as it sounds, once you actually look at the image of the wallpaper, which is no longer available to purchase for 50 platinum points on the My Nintendo America website, you'll see there is actually a small Fortnite logo in the top left corner.
We've got no idea what is going on here and how this even happened in the first place. Surely it's an error rather than a teaser of things to come. While there have been a lot of Nintendo-themed battle royale suggestions since the release of Tetris 99, we can't say we've heard anyone mention a game like this for Kirby. Who knows, though, crazier things have happened.
What do you make of this? Is it royale a slip-up? Would you actually be keen for a Kirby and Fortnite cross-over? Would you rather a standalone Kirby battle-royale? Tell us down in the comments.
[source reddit.com]