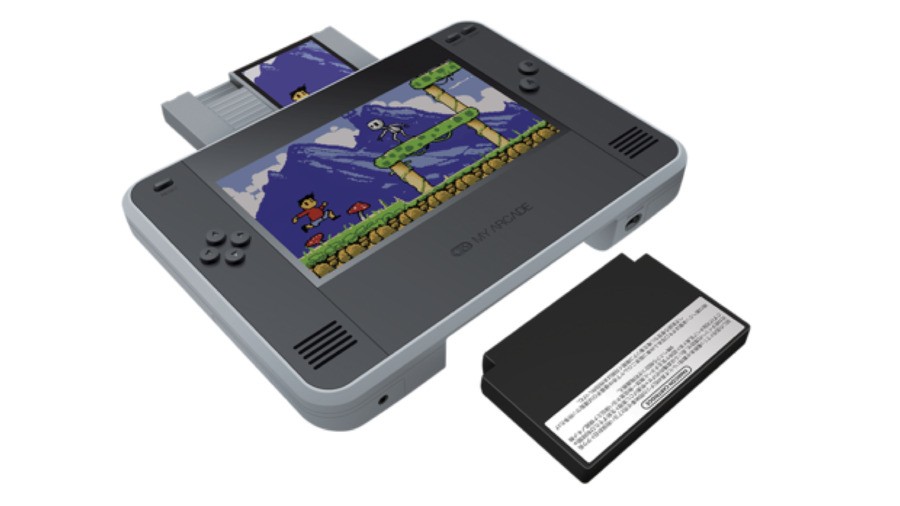 The Switch is slowly but surely becoming a super-useful tool for playing NES games on a modern display, and even on the go in handheld form, with the Nintendo Switch Online service throwing in three more games from the original system's library each month. Still, for anyone who has a large collection of real, physical NES games, it'll likely never provide a portable NES solution quite as flexible as this.
Meet the Retro Champ, a Switch-like system from My Arcade which can play original NES and Famicom cartridges. Slightly bigger than the Switch (thanks to the NES' now-bulky cartridge design) the console includes a built-in seven-inch display for portable play, with a rechargeable battery allowing for up to 35 hours of playtime.
Just like the Switch, the system can be used as either a portable machine using the included face buttons, or can be plugged into a TV using its HDMI output. You can snag a couple of My Arcade wireless controllers (at extra cost) should you want to play in this improvised 'docked' style, before switching back to playing with the machine in your hands. You also get a cartridge cleaning kit in the box to give your old games a much-needed cleanup.
Features:
• Play NES™ and Famicom™ cartridges on-the-go.
• Full color, 7-inch screen.
• 3 - 5 hours of playtime on the rechargeable battery.
• Built in kick-stand.
• Can connect to TV via HDMI® output.
• Compatible with our Super GamePad wireless controllers.
• A built in mini cleaning kit allows you to take proper care of older cartridges.
---
Update: The battery life has now been confirmed to be 3 - 5 hours, rather than the 35 hours originally reported in the press release. We have edited the information in the feature list above to reflect this.
---
If you're interested in owning one of these for yourself, the console is expected to launch in June this year for $79.99; you can keep an eye on its product page here.
Do you think this is a clever idea? Would you like to play your original NES games in portable form? Let us know in the comments below.
[source myarcadegaming.com]