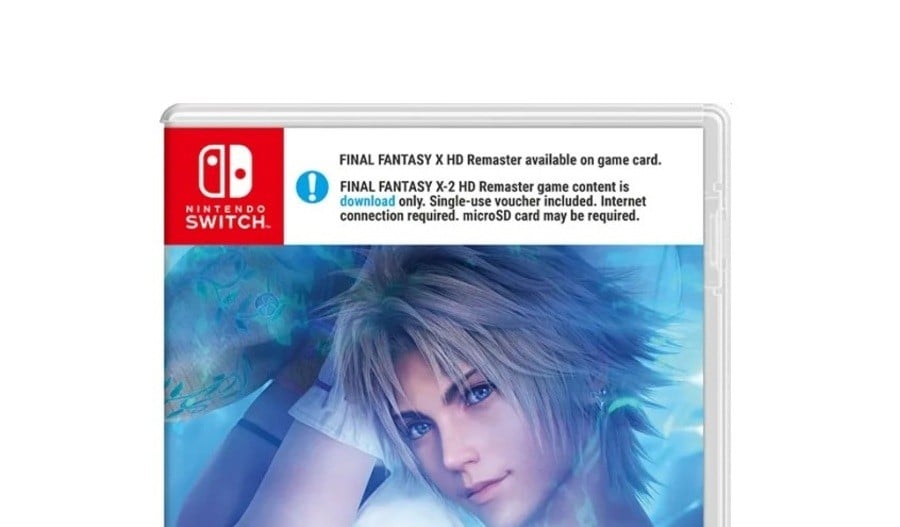 If you're a fan of Final Fantasy, you've probably heard about how American and European physical copies of Final Fantasy X | X-2 HD Remaster will include a single-use download code for the second game. It somewhat defeats the purpose of owning a physical copy.
If that wasn't already insulting enough for fans within these regions, the game's box art for Europe appears to have been updated. Its new look was spotted on the UK GAME website. As can be seen above and below, it includes a gigantic message, once again driving home the point you'll have to download the second game:
FINAL FANTASY X HD Remaster available on game card. FINAL FANTASY X-2 HD Remaster game content is download only. Single-use voucher included. Internet connection required. microSD card may be required.
Obviously, this isn't anything out of the ordinary for Switch physical releases requiring sizeable downloads, but it is rather disappointing considering the artistic beauty of Final Fantasy box arts. The PEGI rating isn't helping, either. If you were already put off by the download-only requirement, this label won't help. It's likely North American copies of the game will receive the same treatment.
If you want a physical copy, including both games on the one card and no download label, it might be worth considering importing a Japanese or Southeast Asian copy of the game. Both of these include English support as well.

Will you be picking a North American or European copy of this game? Tell us below.
[source nintendosoup.com]