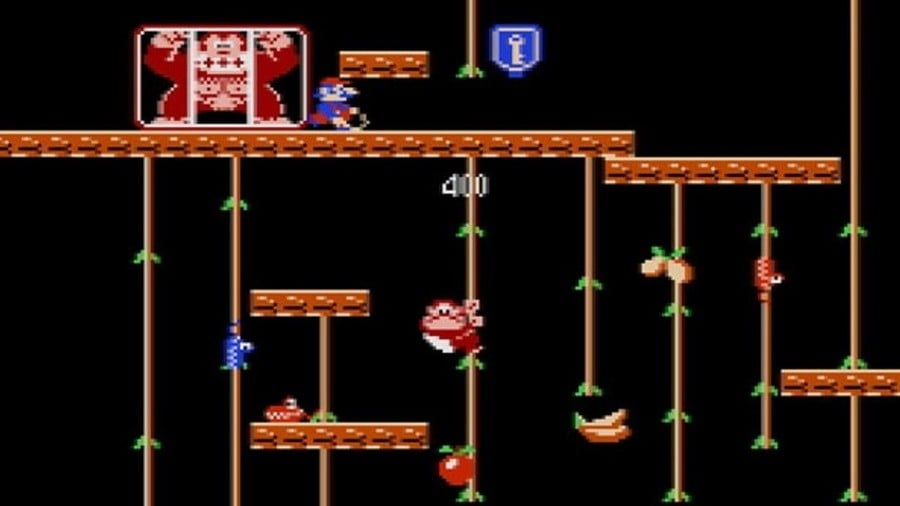 Hamster has revealed that Arcade Archives Donkey Kong Jr. will be made available on the Nintendo Switch eShop later this week, officially launching on 21st December.
Just in case you need reminding, Donkey Kong Jr. was first released in arcades back in 1982. Serving up a lovely dose of classic Nintendo platforming action, the game sees Donkey Kong being captured and caged-up in his latest encounter with Mario. You play as Donkey Kong Jr., making your way to the top of each level to set him free.
Players must skillfully jump and hang on to vines, avoid all enemies, get to the top, and steal the cage's key from Mario to be successful. You can see the game in action via these two screenshots below which have actually been taken from the Virtual Console release.
Donkey Kong Jr. joins both Puzzle Bobble and Puzzle Bobble 2 in this week's complete Hamster lineup, plonking even more retro goodness on Nintendo's modern machine. It'll be available this Friday for $7.99 / €6.99 / £6.29.
Are you a fan of Donkey Kong Jr.? Will you be coughing up the cash to play it one more time? Let us know below.