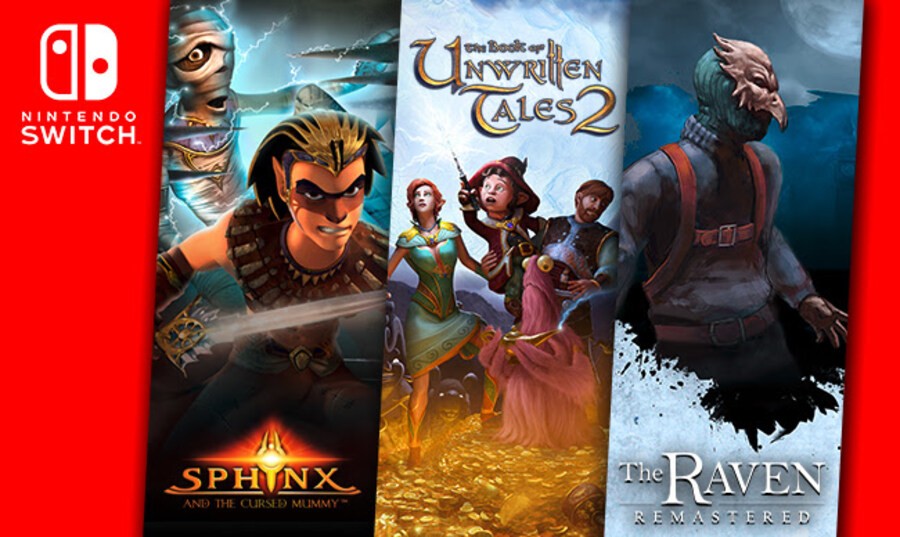 THQ Nordic has just revealed three new games for Nintendo Switch. All titles are expected to launch for the console in 2019 and will be available both digitally, and from retail stores.
Being the lovely bunch that we are, we've gone ahead and provided you with trailers (apart from for the first game - sorry!), information, and feature lists for all three titles in one convenient place. Make sure to check them all out for yourself below.
Sphinx and the Cursed Mummy
Sphinx and The Cursed Mummy is a third-person action-adventure inspired by the mythology of ancient Egypt. Travelling the world via magical portals to foil the evil plans of Set, you, as the titular Sphinx, will need to use your wits, agility, and special powers - as well as your reluctant friend, The Mummy, to help find the stolen magical crowns of Egypt. Can Sphinx stop Set and save the world? That's down to you.
Features:
- Use Sphinx's skill with weapons to face deadly mythical monsters -- and transform to a winged lion
- Take control the Mummy when strength & combat skills aren't needed -- use Mummy's stealth abilities to avoid enemies
- Interact with hundreds of unique and imaginative creatures, enemies and allies
- Fantastic graphics bring this mythical world based on Egyptian legends to life
The Book of Unwritten Tales 2
In The Book of Unwritten Tales 2, you take control of four different characters in a fantasy world, solving tricky logic puzzles in classic point-and-click style along the way. The game promises over 20 hours of gameplay, filled with a "thrilling" story, a colourful cast of characters, and some genuinely good humour (as seen in the trailer below).
This one actually released on the Wii U back in 2016. We gave the game a 'Good' 7/10 score in our review, praising its "pleasing mix of adventure, humour and some head-scratching puzzles".
Features:
- Epic fantasy story with over 20 hours of gameplay
- Classic BoUT humour packed with references to Lord of the Rings, The Hobbit, Harry Potter, Discworld, Game of Thrones or World of WarCraft to name a few
- Hundreds of crazy, surprisingly logical puzzles
- Four playable heroes. One of them is pink.
- Projection-mapping technology combines the great features of 2D and 3D
- Orchestral soundtrack with all the classic and many new works
The Raven Remastered
The Raven Remastered is set in London, 1964. An ancient ruby has been stolen from the British Museum, with just a single raven feather left at the crime scene. Is somebody trying to follow in the footsteps of The Raven, the legendary master thief who disappeared years before? Well, Constable Anton Jakob Zellner finds himself in the middle of this mystery and nothing is what it seems - everyone has something to hide and the Raven is always one step ahead...
Features:
- A classic whodunit adventure from KING Art, the creators of the Book of Unwritten Tales-series
- Experience a thrilling crime story through the eyes of multiple characters
- Classic murder mystery locations, from a train in the Swiss alps, to a majestic cruise ship and the Cairo Museum
- High quality voice acting from a compelling cast of quirky characters
- Fully remastered animations, lighting and hair in full HD resolution
Each game is set to launch for £26.99 / €29.99 / $29.99, arriving on Switch in "early 2019".
Do any of these take your fancy? Will you be keeping an eye out for more information over the coming months? Let us know with a comment.