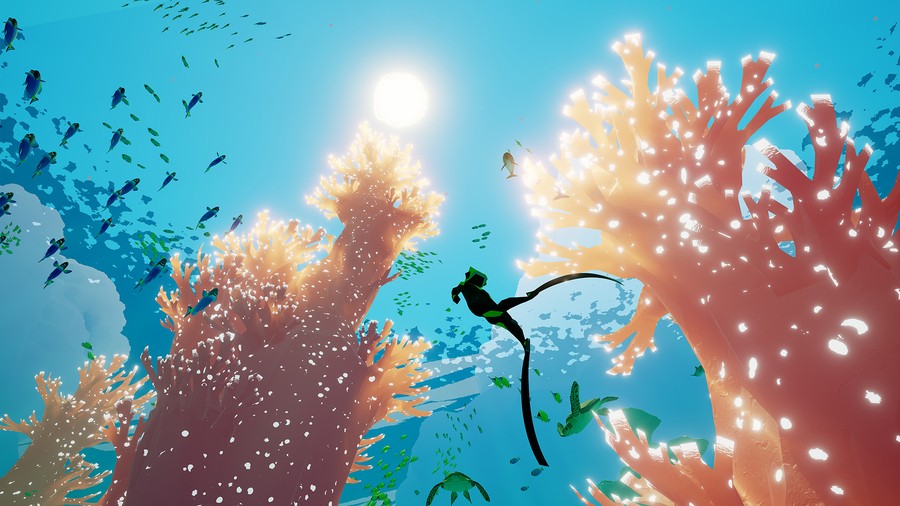 In celebration of the meditative oceanic adventure ABZÛ arriving on the Nintendo Switch eShop at the end of this month, the creative director Matt Nava at developer Giant Squid and the team at publisher 505 Games recently held a Reddit AMA.
When asked about Switch development for ABZÛ, Nava said the port presented a lot of "technical challenges" and it was by no means an easy undertaking to get the game up and running. He also said the team at Giant Squid was astounded the developers at Room 8 were able to pull it off:
"The underwater environment posed a lot of technical challenges... We had a fantastic dev team at Room 8 port ABZÛ to switch, and it was not an easy undertaking. the game simulates tens of thousands of fish and an equally large amount of dynamic kelp leaves. It also has a unique fog accumulation technique that allows different spaces to have different colors and densities volumetrically. All these critical features were originally designed for the powerful specs of the PS4 and PCs, and hard to be drastically optimized to run on the Switch. I'll be honest- a lot of the team was astounded that Room 8 was able to pull it off! I am super happy with it, it runs great and the game feels like a great fit for the Switch."
He explained the technical side of development a little bit further when queried about the resolution changes in the game:
"Yes there were some pretty low level code optimizations, especially for the fog. There were also optimizations to the visuals, mostly LOD distance tuning. Fortunately, we were able to do extensive tests to make sure that there are no major LOD pops with the new settings!"
According to 505 Games, ABZÛ runs at 30fps, 720p docked and 540p in handheld mode. When asked if there was a plan for a physical release, 505 Games explained there were currently were no plans, but it would investigate this further. One rogue comment also asked about 505 bringing the Roll7 game Laser League to the Switch. Apparently, there are no plans to port it right now.
In one other interesting reply, Nava confirmed the Endless Ocean games were a key source of inspiration for ABZÛ alongside the underwater classic Ecco The Dolphin. Nava even went as far as saying he would like to see an Endless Ocean reboot:
"I played the Endless Ocean games before ABZÛ began development… the game aimed to do a scuba simulation, and it did a great job. However, they always left me wanting more freedom, smoother controls, and more focus on atmosphere, which is was what we tried to deliver with ABZÛ. but I am secretly still hoping for an Endless Ocean reboot."
Are you looking forward to the release of this game? Would you also like to see Endless Ocean resurface? Tell us below.
[source reddit.com]