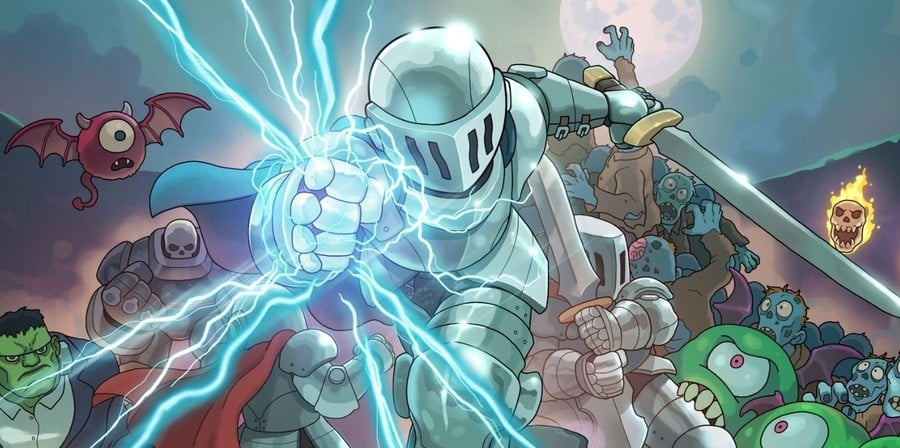 Tikipod - the developer responsible for Aqua Kitty UDX - has announced Iron Crypticle will be making its way to the Switch eShop early on in 2019. The game is a twin-stick arcade dungeon shooter previously released on multiple other platforms and is said to channel classics like Smash TV and Ghosts 'n Goblins. In addition to this, it contains an item collection system inspired by Bubble Bobble and also features four player local co-op.
Below is the story and gameplay rundown, courtesy of the title's Steam page:
Cryptonia's princess and the glorious Royal Treasures of Cryptonia have been abducted!
The washed-up kingsguard must leap into action and plunge down into the ancient magical crypts on a rescue mission!
If you want to survive past the Guardian Monsters of each floor then you'll need to upgrade your abilities. Speed, Damage, Fire Rateand Weapon Duration can all be upgraded either from shops or through careful chaining gobbling up food pickups. Most enemies drop a food item (delicious cheese, slices of cake, lollipops, hotdogs, fruit…) with which you need to juggle chain-collecting, all whilst slashing your way through hordes of ghastly creatures.
Route selection is very important too, with each floor made up of a branching system of rooms. Each room type has their advantages and disadvantages – plus with each play through the rooms all shift about and reform, just to keep you on your toes! To help you on your quest are a range of weapons, magical scrolls and items to unlock. For close combat emergencies you can rely on your dash move for quick escape, or activate your Atomic Fist to punch a hole in the enemy ranks. Be sure to visit the cat merchant to see what is on offer. Or try the arcade room to earn extra coins and health.
Take a look at the original trailer below:
Do you like the look of this co-op multiplayer game inspired by the above-mentioned arcade classics? Tell us in the comments.
[source twitter.com]