Jackbox Games has revealed that The Jackbox Party Pack 5 will be arriving on Nintendo Switch on 17th October. A new trailer has been released to give us a quick look at the game, too.
The Jackbox Party Pack 5 is, perhaps unsurprisingly, the fifth entry into The Jackbox Party series. Each title in the series contains a small selection of games which are designed to be played in large groups, perfect for a party-type setting.
This latest entry features five different games in total, called You Don't Know Jack, Split the Room, Mad Verse City, Patently Stupid, and Zeeple Dome. The game's official website gives us a little more information on each of these games, which you can see for yourself below.
- You Don't Know Jack: The pop-culture trivia mash-up YOU DON'T KNOW JACK: Full Stream (1-8 players). The classic returns, full of wild new surprises.
- Split the Room: The what-if game Split the Room (3-8 Players). Create strange and divisive hypothetical situations.
- Mad Verse City: The lyric-writing game Mad Verse City (3-8 players). Channel your inner MC as a rap battling robot.
- Patently Stupid: The competitive drawing game Patently Stupid (3-8 players). Create odd inventions to solve bizarre problems.
- Zeeple Dome: The deadliest game show in the Crab Nebula, Zeeple Dome (1-6 players)! Fling yourself at bloodthirsty aliens to win millions of Zubabucks!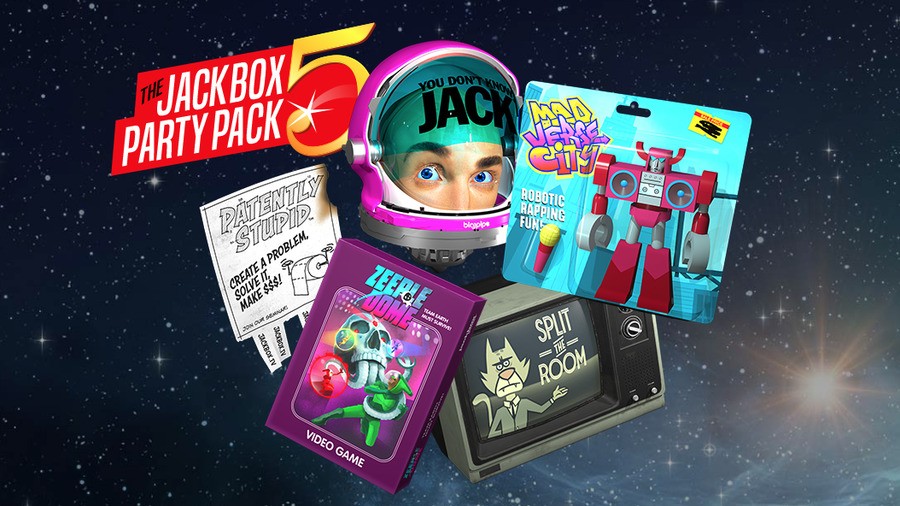 Are you a fan of The Jackbox Party franchise? Will you be partying it up with this one when it arrives next month? As ever, let us know with a comment below.