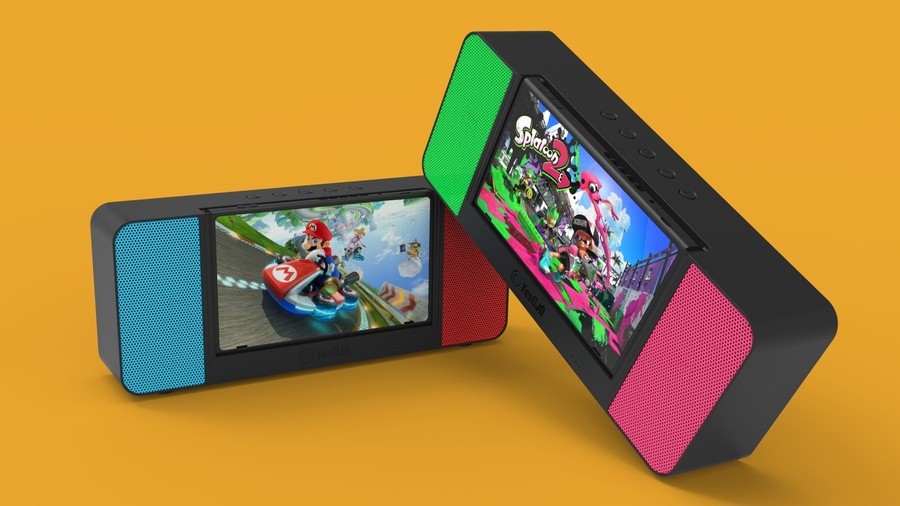 We see a lot of accessories for the Switch here at Nintendo Life, with carry cases, extra peripherals, projectors, and lots more littering online stores around the world. Today, though, gaming device and accessory company YesOJO has unveiled a new portable speaker, something the company says is a "world first".
As you can see, the speaker is designed for use with the Switch's tabletop setup exclusively, with the console slotting in without Joy-Con attached. In a lovely touch, the speakers are the same colours as the traditional Joy-Con combinations, meaning you can still play with your favourite colours clearly in sight. The speakers are said to provide "rich audio quality with a deep resounding bass".
It features an "expert" cooling system for your Switch (more details are expected to be revealed about this soon), allows 8 - 12 hours of playing time from a single charge, and the dock actually charges your Switch when connected to a mains power supply. It can also act as a power bank, giving 8 hours' worth of play time or two full charges to the console.
Interestingly, the speaker will also support other devices via bluetooth and features 2 USB 3.1 ports for charging other devices, too. If you're interested in buying one for yourself, you'll have to wait a little while, however, as the speaker is set to feature in an Indiegogo crowdfunding campaign in "early 2019". For now, the product has simply been revealed as part of the Tokyo Game Show 2018 celebrations.
Let us know what you think. Will you be keeping an eye out for this next year? Do you think this could come in handy for some future tabletop sessions?