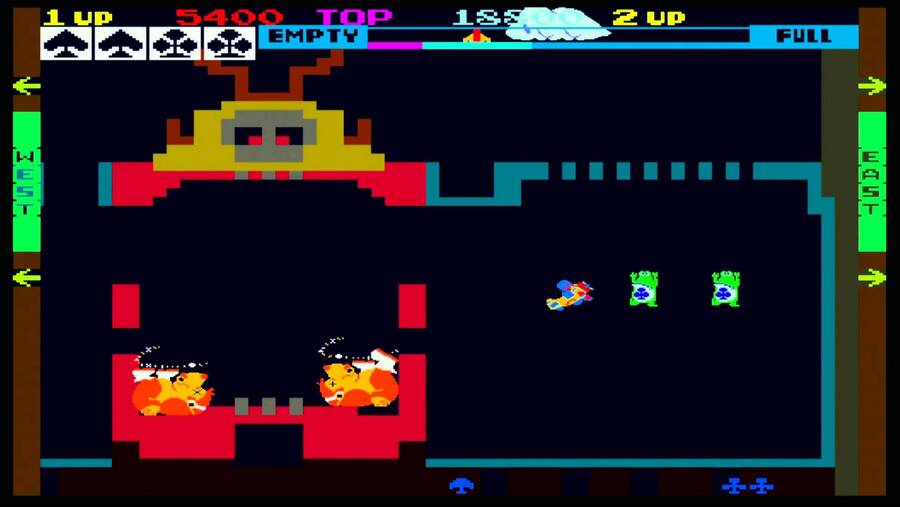 During the Nintendo Treehouse Live events at E3 this year, Nintendo revealed that Sky Skipper - an almost-forgotten arcade game from the '80s - would be coming to Switch. The time has finally come for us to try the game out for ourselves, with a 20th July release date now confirmed for Japan.
In case you haven't heard the story before, Sky Skipper was a game released by Nintendo in 1981 in Japanese arcades, acting as a follow up to Donkey Kong. The cabinet featured artwork by none other than Shigeru Miyamoto, but the game itself didn't perform as well as initially hoped. Ten arcade cabinets found their way to North America for localisation purposes, but the poor reception caused Nintendo to convert them into Popeye cabinets. One sole cabinet now remains at Nintendo of America HQ and the ROM from this cabinet was used to create the upcoming Switch version.
The game sees players flying a plane through scrolling mazes in a bid to save animals caged by enemy gorillas. The player must drop bombs onto these pesky gorillas, temporarily knocking them out and unlocking the cages. The idea is to then swoop down to pick up the animals before the gorillas get up and lock the cages again. The Switch release is said to leave the game untouched, aside from the addition of online leaderboards, to allow players to experience the title as it was originally intended.
Sky Skipper is releasing as part of Hamster's Arcade Archives collection and is confirmed to be releasing in Japan this Friday. We expect other regions to receive the game either on the same day or close to it.
Are you excited to give this game a go? Let us know if you'll be keeping an eye out for this one when it lands on the eShop with a comment below.
[source japanesenintendo.com]