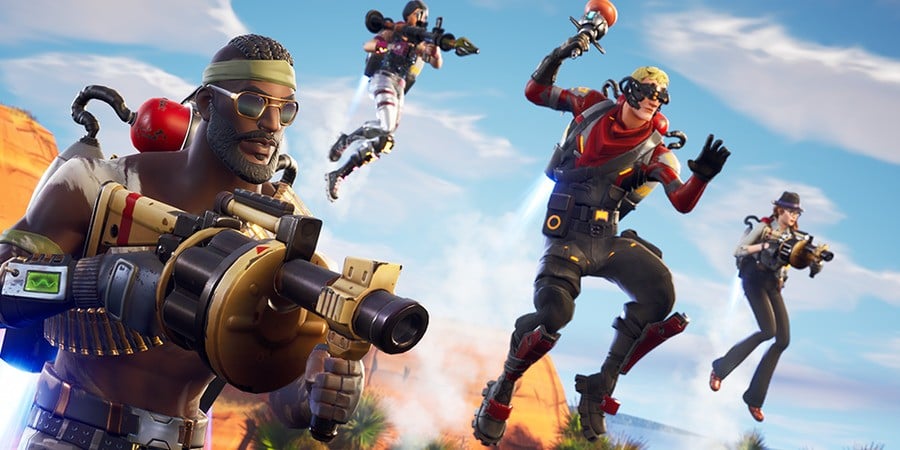 Fortnite has been updated to Version 5.10 today, bringing with it a new limited time mode that's packed full of explosions and the return of a very controversial weapon type.
This week sees the introduction of 'Fly Explosives', a new limited time mode that's all about jetpacks, explosives, and complete cartoon chaos. Players can use Jetpacks to fly above their foes before dealing bucket loads of explosive damage. Here are a few details on what you can expect to see:
Mode Details
- Only Explosive Weapons can be found in this mode.
- Floor Loot spawners will occasionally spawn Jetpacks.
- Fly Explosives Jetpacks have increased fuel regen rate & decreased burn rate compared to Default Jetpacks, to keep pilots in the sky a bit longer.
- Between-storm wait times have been reduced due to players needing less time to find adequate loot (avg. match length should be lower than 20m).
- Rocket Ammunition capped at 120.
- Profile Stats (K/D & Wins) are tracked in this mode.
The Guided Missile also sees a return to the game this week, dropping into the Battle Royale mayhem from today. This is the first time that Switch players have come into contact with this weapon, but its initial release on other systems was met with controversy for being far too overpowered. In its time away, the Guided Missile has been tweaked and tuned down in an attempt to balance gameplay.
The Guided Missile allows you to scan the battlefield from above, weave a missile through obstacles to find your opponents, and rocket ride teammates into the action.
Have you tried Fortnite on Switch yet? Have you been enjoying the Season so far? Let us know with a comment below.
[source epicgames.com]