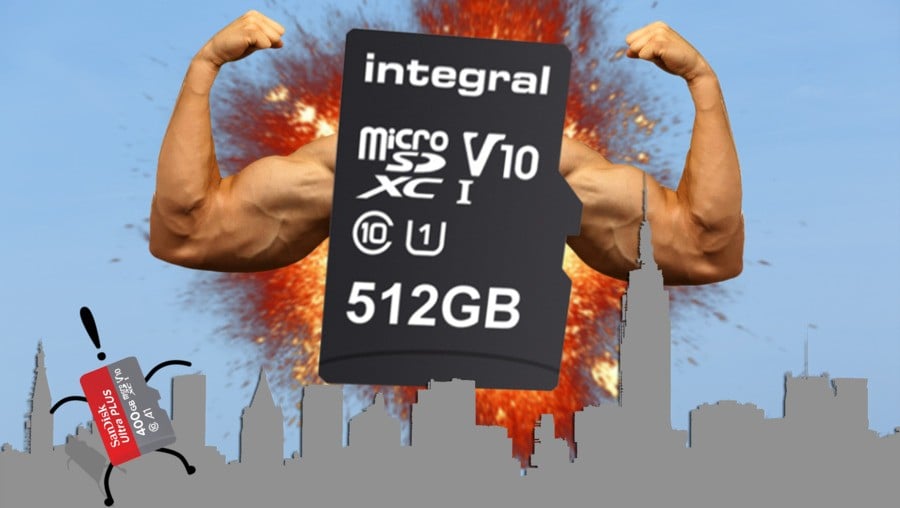 2018 is already off to a great start with Europe-wide memory specialist Integral Memory leading the charge to deliver the mightiest Micro SD card known to mankind. Its new 512GB microSDXC V10, UHS-I U1 card will be the perfect companion for the Nintendo Switch, we think. Sure, it will probably cost as much as the Switch itself, but such is life.
Our guide to the best Micro SD cards for Nintendo Switch has been one of the most popular articles on this site, with many readers opting to pick up SanDisk's 400GB card which you can currently pick up for £219.99 / $243 from Amazon. Given that cost, it's wise to expect Integral Memory's card to be quite a bit more expensive, at least for the first few months.
If you've already purchased a 400GB model then you might be wondering if that extra 112GB is worth upgrading for, but know this - Integral Memory's new card meets the Video Speed Class 10 (V10) standard, making it perfect for the Switch where fast data transfer is a real bonus.
To clear up any doubts, the data transfer speed for the card is confirmed to be 80MB/s, which is more than enough for the demands of playing games on the Switch. Nintendo themselves recommend picking up a Micro SD card with a "Transfer speed 60 - 95 MB/sec.
Integral Memory's James Danton had this to say:
The need to provide extended memory for smartphones, tablets and a growing range of other mobile devices such as action cams and drones has been answered. As a company, we are very proud to be the first to achieve the 512GB capacity milestone in microSDXC, worldwide.
Integral Memory's 512GB microSDXC card will be available from February this year. We're keen to see how it is priced when compared to the SanDisk 400GB card. Would you consider picking up this bad boy, or is the price simply too much for this kind of product? Will you be waiting it out, or opting for smaller card and hot-swapping? Let us know with a comment below.
[source businesswire.com]