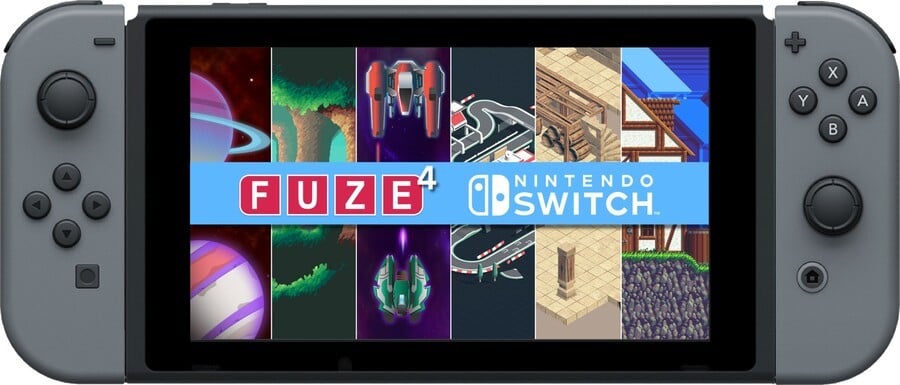 UK-based FUZE Technologies, a company which aims to create tools that make learning and teaching real text based coding easy and accessible, has released some brand new information on their upcoming project for Nintendo Switch.
Aptly named FUZE4 Nintendo Switch, this software will feature a comprehensive selection of tutorial projects to allow users to get to grips with the ins-and-outs of game programming concepts. The FUZE programming language blends the simplicity and immediacy of BASIC, with the power and capability of the likes of high-level programming languages such as Python and C++. 
Here are some features from the press release to tell you all about it.
FUZE4 Nintendo Switch is an intuitive and incredibly easy to pick-up application for Nintendo Switch, more than powerful enough to create professional looking games that play beautifully. 
Content is king!
Game assets are all the graphics and sounds required to create great looking games. To help new users and even seasoned pros to get started we're including tens of thousands of game graphics, audio samples and 3D models across, but not limited to, 2D Platform, Racing, RTS & RPG, Puzzle, Shoot-em-ups and Beat-em-up genres. And just in case you run out, you can create your own or even purchase additional game packs directly from the Nintendo e-shop. 

The bundled assets are currently valued at over $150 and this will only rise as more artists submit their work. With FUZE4 Nintendo Switch retailing at less than £30, this represents incredible value for money. FUZE4 Nintendo Switch will be available Q2 2018 with additional gaming content to be made available via DLC add on packs. Pricing will be confirmed nearer the launch. 

More about FUZE & FUZE4 Nintendo Switch
FUZE is first and foremost an educational platform specifically designed to make learning to code as easy and accessible as possible. With FUZE4 Nintendo Switch users can learn, code and play their own games. More than this, they can share with their Nintendo network friends as well as comment and rate their work. Schools can create their own hubs and even share with other schools.
For any budding game programmers out there, this could well be a great way to get hands on and start learning the craft. FUZE has told us that several videos showing it working in the flesh will be revealed in the next month, allowing us to see exactly how the software will run and what you can expect.
Until then, what do you think about a coding educational tool being available on the Switch? It seems like a wonderful idea to us. Let us know your thoughts in the comments below.