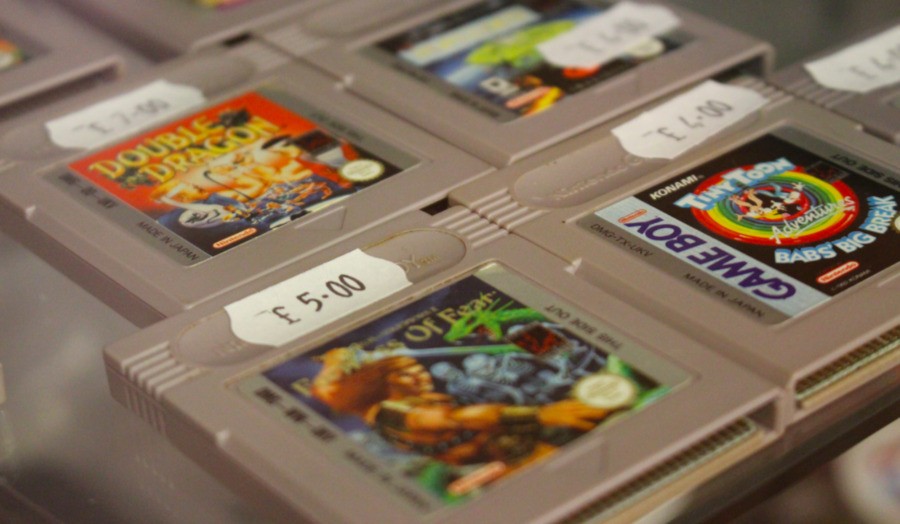 Those of you with long memories will recall that we ran a feature some time ago about Extreme Gamez, a small UK indie video game store. This particular shop might not seem especially noteworthy at first glance, until you realise that it is situated in one of the most historically important towns in the UK, at least when it comes to video game history. Ashby-de-la-Zouch may be famous for its imposing ruined castle and its connection with Sir Walter Scott's historical romance Ivanhoe, but if you're a gamer of a certain age then the name will have a very different meaning: the town is the birthplace of Ultimate Play the Game, the company founded by Tim and Chris Stamper that would eventually become Rare, one of the most prolific supporters of the NES, Game Boy, SNES and Nintendo 64. 
Rare's original headquarters are just around the corner from Extreme Gamez, and store owner Stuart Benson says that during the time the studio was part-owned by Nintendo (when it was located a little further afield, in nearby Twycross) staffers would regularly visit to purchase sealed copies of the latest Rare masterpiece, to be placed in the company's vault (presumably Nintendo was rather stingy when it came to handing out free copies). This changed when Microsoft took over but Benson reveals that some ex-Rare staffers - many of whom still live locally - continue to visit the store; Playtonic's Steve Mayles and Kev Bayliss are regular faces.
However, our recent visit to Ashby (which is technically our local indie game store as well - we're based 15 minutes down the road in Loughborough, Leicestershire) wasn't merely to chat about the store's long history, but also to discuss a somewhat uncertain future. Just after Christmas Benson posted a rather worrying message on the store's Facebook account which painted a dire picture; following "a hard couple of years in retail" changes were being made to the store's loyalty reward system to ensure that it could keep trading.
Extreme Gamez isn't alone; while the UK games retail sector remains relatively steady, the way in which we buy our games is pushing indie stores out of the picture; Benson himself admits that as digital has taken over he's seen footfall in store plunge dramatically. While Ashby is expanding all of the time, it isn't a massive city like London or Birmingham (the 2011 census says the population was just 12,370) and cannot provide a constant stream of potential customers through the door. As more and more of his regular patrons have swapped physical games for digital downloads, Benson has seen revenue drop alarmingly.
Switch has provided a lifeline; the console has constantly been in high demand since launch, while the SNES Classic Edition has also brought in some much-needed cash - although Benson notes that like the NES Classic, the long-term effects of such a release are limited as buyers can't return to the store and buy new games for it. However, they can visit and purchase an authentic SNES console and games, and the retro side of things has given the business a boost. Extreme Gamez has a "retro loft" as well as glass cabinets packed with vintage goodies like NES, Game Boy, N64, Atari 2600 and Mega Drive / Genesis cartridges. It's also one of the few stores in the country where you can demo the latest releases on modern consoles alongside a fully-working Vectrex system from the early '80s. This part of the games market is growing all the time, but the key problem is acquiring stock; you can't simply order 50 copies of Secret of Mana from a wholesaler when you need them, for example.
Benson is therefore at something of a crossroads. Small indie stores like his cannot hope to compete with the "big boys" like Amazon, GAME and the various UK supermarkets when it comes to pure buying power, and as a result physical retail is become less tenable. Online isn't really a sensible option either; Benson says that the amount of cash required to build a successful website would cripple a store of this size, and even then the same problem would remain - established players like Amazon already sell games dirt cheap anyway. Retro and merchandising are potential lifelines; the store has recently expanded its merchandise section and is packed with Zelda, Mario and other Nintendo-related items, as well as pop culture icons such as Teenage Mutant Ninja Turtles figures and movie collectables. Transitioning into these areas could be the future for Extreme Gamez.
Ultimately, small independent video game stores like this one - at one point the lifeblood of the games retail sector - could go the way of other high street media retailers; we've seen DVD and CD sellers all but vanish from the high street here in the UK, with only HMV managing to keep its head above water. Having said that, the rise of vinyl could potentially show the way for store owners like Benson; the burgeoning interest in vintage tech and retro gaming's almost evergreen appeal mean that shops which focus on 'classic' entertainment may be able to carve out a profitable niche for themselves - but can this revival possibly support enough shops of this kind in the UK? 
Benson has watched many of his competitors fall by the wayside throughout 2017 and says that many others are likely to succumb in the next twelve months. His final message is clear; if you value the experience of visiting a physical, bricks-and-mortar store then you need to show your support by spending money in these places rather than online; otherwise the risk is there that these shops will simply no longer exist at all.