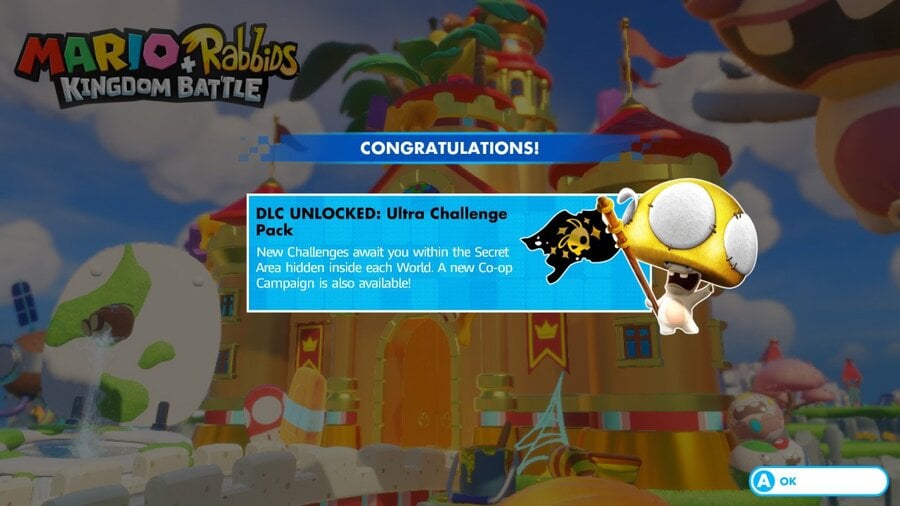 Mario + Rabbids Kingdom Battle is a bit of a gem, but beyond its core campaign it's also had a low profile 'Season Pass'. Though it's been available to buy from the front screen of the game since launch, it's had very little publicity.
Up to now the only content available has been in the form of 'pixel' and steampunk weapons, which look neat but are ultimately weaker than late-game equivalents. Now, however, the first 'main' part of the season pass content has gone live (at least in the UK, at the time of writing) - the Ultra Challenge Pack. Its release date is supposed to be 17th October, but evidently the roll-out is underway and it was available to us after manually updating the game.
It includes a couple of things - first up are 'Special Challenges', in the form of difficult maps that you can now tackle from the 'Secret Area' in each of the four worlds. Second up is the 'Cataclysm Kerfuffle' co-op campaign, which consists of five maps (and the unlockable 'hard mode' versions).
We'll be checking out the content to see whether it offers much value as the initial notable addition from the season pass. Perhaps of more interest will be the 'Story Mode' pack that's due on 16th January. These dates are from eShop receipts, as Ubisoft is yet to do much to promote the content.
Are you planning to try out this DLC?