A while ago we told you about OJO, a device pitching itself as a dedicated Nintendo Switch projector. The concept is pretty simple - you dock the Switch as normal and the projector will produce the output onto whatever surface you choose, with the idea being that the projector's portability will be a good fit for the console.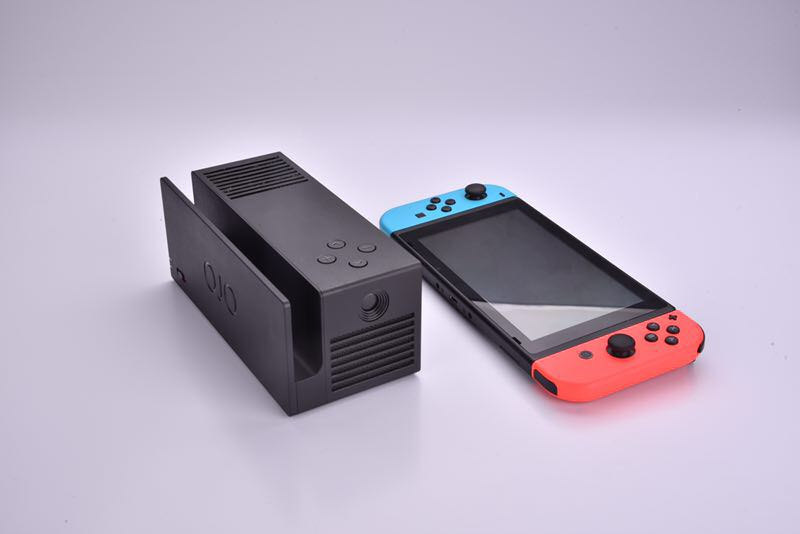 YesOJO made it clear that it was planning to crowdfund the first wave of devices, and has now announced that this'll launch on 24th October via Indiegogo. As it's a new company it has plenty to prove, though it's been using Twitter to highlight videos showing the device in action.
The latest press release also has a list of tech specs - some have doubts around the 200 Lumen output, as we saw in our original article's comments, which explains why the company is keen to release videos of the device in action. The specifications are below.
Display Technology: Texas Instruments DLP 0.2" DMD LED projection
Luminance: 200 Lumens
Resolution: 854*480 Pixels
Contrast Ratio: >1000:1
Projection Ratio: 16:9 Projection
Screen Size: 30"-120"
Interface: HDMI input, 2 USB 3.0, USB Type-C for input and charging Nintendo Switch,
Output, 3.5" Line out.
Speaker output: 5W
Battery: Panasonic High Capacity Lithium Battery – 3.7V 20400mAh
Expected play time: 4 hours per charge
Charging Current: 15V 2.6 A
PowerBank: 5v/2A output
Size: Dimensions(mm) 172*80*70
Cooling fan for DMD projector: 11000 RPM turbo fan (Nintendo Switch fan: 7600 RPM)
We'll certainly see more of this once the Indiegogo campaign launches; are you interested in the OJO?