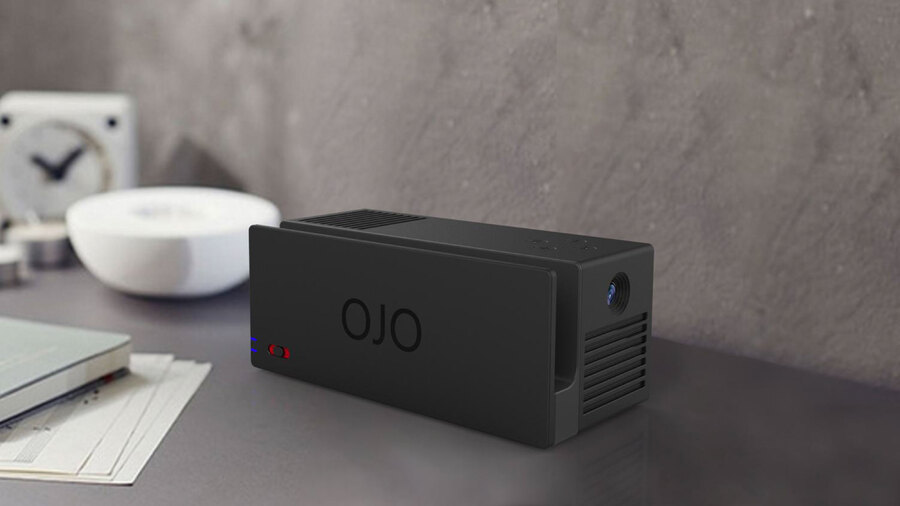 We recently checked out an LED mini projector with the Switch to see if it was a match made in gaming heaven. The results proved to be quite pleasing; with this projector coupled with the SFANS Adapter and Nintendo Switch, we were able to fit everything we needed into a medium-sized backpack before relocating at a friend's house.
While the DB Power T2 was a good experience, it's still a bit of a cumbersome solution for taking around from one place to another. We were definitely intrigued, then, when we heard about the OJO protector for Nintendo Switch; according to the manufacturer it's currently in the prototype stage, but from what we can see it is likely to be in a position to go into production before long.
Billed as the "world's first projector for Nintendo Switch", the OJO offers a 120 inch equivalent screen back up with 200 lumens, stereo speakers, built-in 20,000mAh lithium battery, and all necessary IO ports. The users can - in theory - play their Nintendo Switch on a big screen whenever and wherever they want.
Here are some images of the projector in action which the manufacturer sent over:
There's also a brief teaser video:
The team at YesOJO told us the following:
We plan to go to Indiegogo for crowdfunding and expect to have 100k units sold next year. Our whole team have put great efforts and investment into this project and we have strong confidence that the product will be successful.
The company seems untested, so it'll be interesting to see whether this lives up to its potential and is the real deal.
We'll keep you posted on the launch of the crowdfunding campaign - do you think this could be a big success?