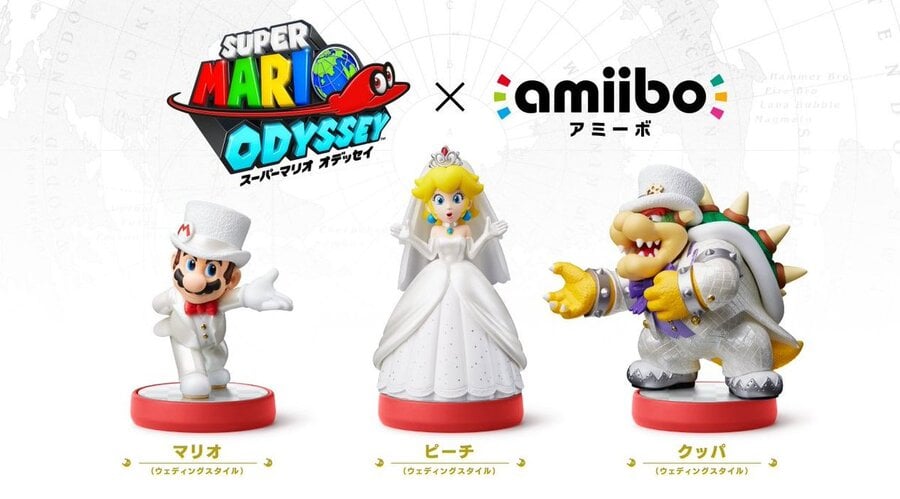 The ability to change Mario's outfit in Super Mario Odyssey is one of the many reasons we love this video game to bits. We're not saying we dislike the character's iconic dungarees, you understand - they're timeless, darling - but it's nice to have the option to change things every once in a while.
If you couldn't agree more but are finding it tricky to fill out your wardrobe then you might want to search around in the back of your cupboard to find those amiibo things that were all the rage 18 months ago. 
Some of them unlock costumes in the game - although before you reach for your pitchfork and flaming torch, it should be said that none of these are locked to amiibo. If you have the perseverance, you can acquire them without using any plastic figures whatsoever.
Without any further ado, here are the costumes you can unlock with your amiibo.
Dr. Mario (Smash Bros.)
Unlock: Doctor Headware and Doctor Outfit
Mario - Gold Edition (Super Mario)
Unlock: Gold Mario Cap and Gold Mario Outfit
30th Anniversary Mario - Classic Color and Modern Color (Mario series)
Unlock: Classic Cap and Classic Outfit
Diddy Kong (Super Smash Bros.)
Unlock: Diddy Kong Hat and Diddy Kong Suit
Luigi (Super Mario Series and Smash Bros.)
Unlock: Luigi Cap and Luigi Suit
Wario (Super Mario Series and Smash Bros.)
Unlock: Wario Cap and Wario Suit
Waluigi (Smash Bros.)
Unlock: Waluigi Cap and Waluigi Suit
Mario Wedding Outfit (Super Mario Odyssey)
Unlock: Mario's Top Hat and Mario's Tuxedo
Bowser Wedding Outfit (Super Mario Odyssey)
Unlock: Bowser's Top Hat and Bowser's Tuxedo
Peach Wedding Outfit (Super Mario Odyssey)
Unlock: Peach's Veil and Peach's Wedding Dress