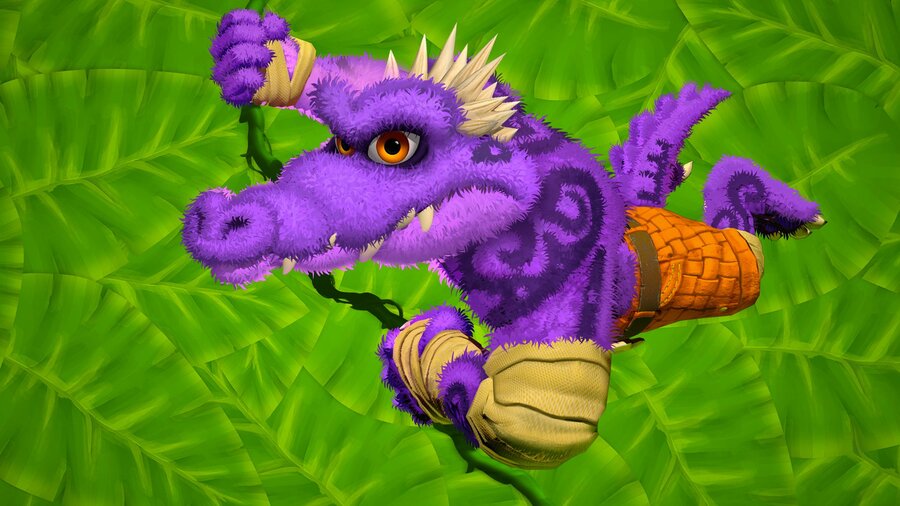 FortuneFish - the studio founded by former Rare owners Tim and Chris Stamper, along with Tim's son Joe - has released a test version of its new music-based platformer on iOS which calls to mind the classic days of the legendary Donkey Kong Country studio.
Kroko Bongo: Tap to the Beat! is billed as a rhythm platformer and boasts attractive visuals and character designs which wouldn't look out of place in a new Donkey Kong outing. The main character looks a lot like King K. Rool, if you ask us.
Interestingly, the game is entirely free to download and doesn't feature any annoying adverts. What it does contain is "perfect music synchronisation", "pixel perfect timing", "branching paths and top secret routes" and a unique soundtrack for each stage - the latter of which fits in with the David Wise and Grant Kirkhope-penned tunes written for many of Rare's most famous platformers. Even the sound of collecting the in-game musical notes sounds exactly like the banana-grabbing one from the DKC series.
Here's the official description:
Run, jump and ride your way through five diverse and vibrant levels, each with their own unique and absorbing musical soundtrack. Your mission is to collect as many Musical Notes & Totem Tokens as possible and drum, kick and slam anything that gets in your way! This is rhythm auto running like you have never seen it before, with minecart mayhem, secret routes and one very furry crocodile... 

Remember in Kroko Bongo, your ears are just as important as your eyes so turn up the volume and enjoy! 
We've had a quick go and we're very, very impressed with the game - the visuals are wonderful, the music is fantastic and the core premise is addictive and easy to pick up, but hides a surprising amount of depth. For the very reasonable price of free it's well worth a look - and judging from official tweets, we could see a Switch version in the fullness of time, too:
Thanks to Andy Robinson for the tip!
[source itunes.apple.com]