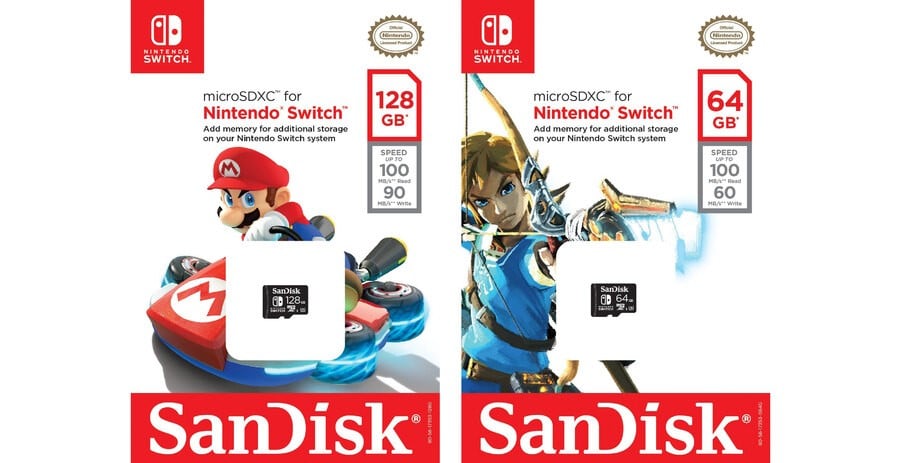 SanDisk are one of the most popular and reliable brands of memory so it makes perfect sense for Nintendo to team up with them to sell officially licensed memory cards to expand the internal memory of the Switch. 
While we're sure they won't end up being as cheap as some of the options in our Nintendo Switch Micro SD buyers guide, we guess that some anxious parents will be reassured by this packaging when picking up some memory to go with little Jimmy's new Switch.
The microSDXC cards will be available in capacities of 64GB and 128 GB, and will feature the Nintendo Switch and SanDisk logos. As shown above Link gets the 64 GB card while Mario gets the mighty 128 GB capacity. The fiend!
Tom Prata, Nintendo of America's Senior Vice President of Strategic Initiatives was quite pleased about the deal:
Western Digital is a global leader in memory storage, and its SanDisk brand microSD cards are trusted by consumers around the world. These new Nintendo-licensed memory cards provide significant additional storage for digital content, and in many retail locations they will be conveniently displayed alongside Nintendo Switch games and accessories.
Sven Rathjen, Vice President of Product Marketing, Client Solutions, Western Digital was equally as enthusiastic:
As more and more amazing games and related content become available for download on Nintendo Switch, our licensed memory cards allow users to quickly and easily expand their storage. Nintendo Switch has generated tremendous momentum, and we are thrilled to partner with Nintendo to offer consumers a trusted card for their system.
The Nintendo-licensed 64 GB and 128 GB microSDXC SanDisk memory cards will be available at select retail outlets starting in October 2017. Do you plan to pick one up?