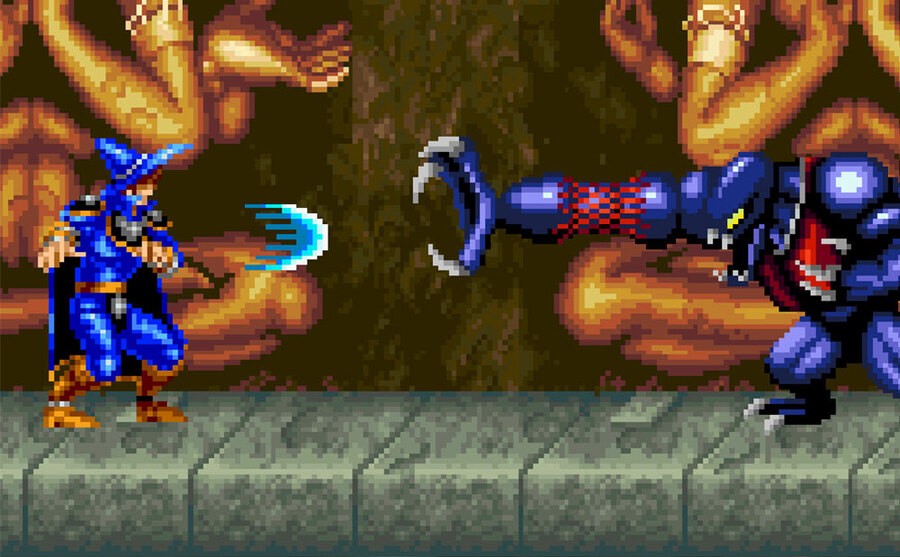 For those of our readers who have been enjoying the ACA Neo Geo releases on the Switch eShop, it's been revealed that later today Magician Lord will be available to download for the usual price of £6.29 / $7.99. 
Developed by Alpha Denshi and released in 1990 as a launch title on the Neo Geo, this side-scrolling platform game was quite popular with arcade gamers. With the Neo Geo library consisting of so many beat-em-ups and shmups, it's nice to have a good old action platformer to enjoy.
Magician Lord is a lot like Capcom's Ghouls 'n Ghosts. You play the titular wizard as he battles to defend his homeland from the evil advances of the absurdly named Gul-Agieze.
Considering the age of the game the visuals and sound still hold up really well. The sprites themselves look a little dumpy and animate awkwardly but they still manage to look pretty decent, and the generous use of sprite scaling also helps the visual side of things. The music is nothing short of stunning, with the first level theme being especially worthy of praise.
Do you plan to pick up this magical action platformer for your Switch later today?